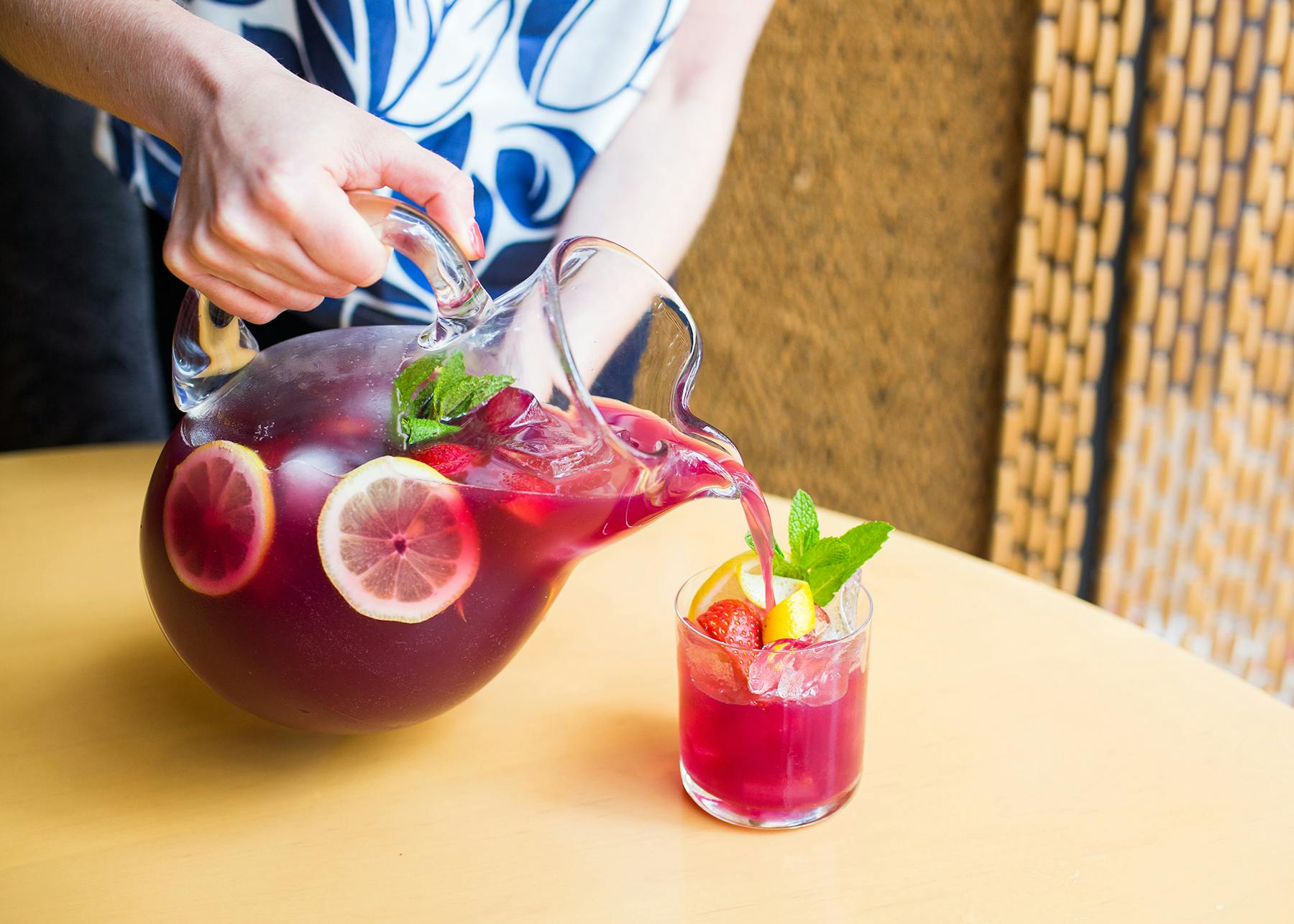 Sangría Roja
Share Article:
Recipe
Sangría Roja
A delicious take on the classic Spanish summer punch
This summertime favorite is sweet, spicy, and refreshing on a hot summer day. ¡Salud!
Yield: 1 32-ounce pitcher
13 ounces red wine, like from Ribera del Duero (about half of a 750ml bottle)
9 ounces Sangría Base (see recipe below)
10 ounces soda water
To Garnish
4 each lemon wheels, mint sprigs, orange peels, and berries (raspberries, blackberries, etc.)
Combine wine, sangría base, and seltzer in a pitcher. Fill 4 glasses with cubed ice, and pour sangría into each. Place one lemon wheel, mint peel, orange peel, and berry on top. Serve immediately.
Sangría Base
2.25 ounces simple syrup
4.75 ounces Sangría Syrup (see recipe below)
1 ounce sherry brandy (like Lustau Solera Reserva Brandy)
1 ounce dry gin (like Fords Gin)
Combine all ingredients and mix well. Set aside until making the sangría.
Sangría Syrup
Makes 1 quart*
3 cups orange juice
¾ cup lemon juice
3.5 ounces sugar
1 bay leaf
5 juniper berries
10 black peppercorns
1 cinnamon stick
2 cloves
1 bunch fresh mint, destemmed
Zest from 1 orange
Zest from 1 lemon
Combine all of the ingredients in a medium saucepan and bring to a simmer, stirring constantly. Once the sugar has dissolved, remove from the heat and allow to cool. Strain through a fine sieve and store in sealed container until ready to use.
*Note: This recipe makes enough syrup for a few batches, but it can be used for many types of sangría. Store in the refrigerator in an airtight container for up to a week.