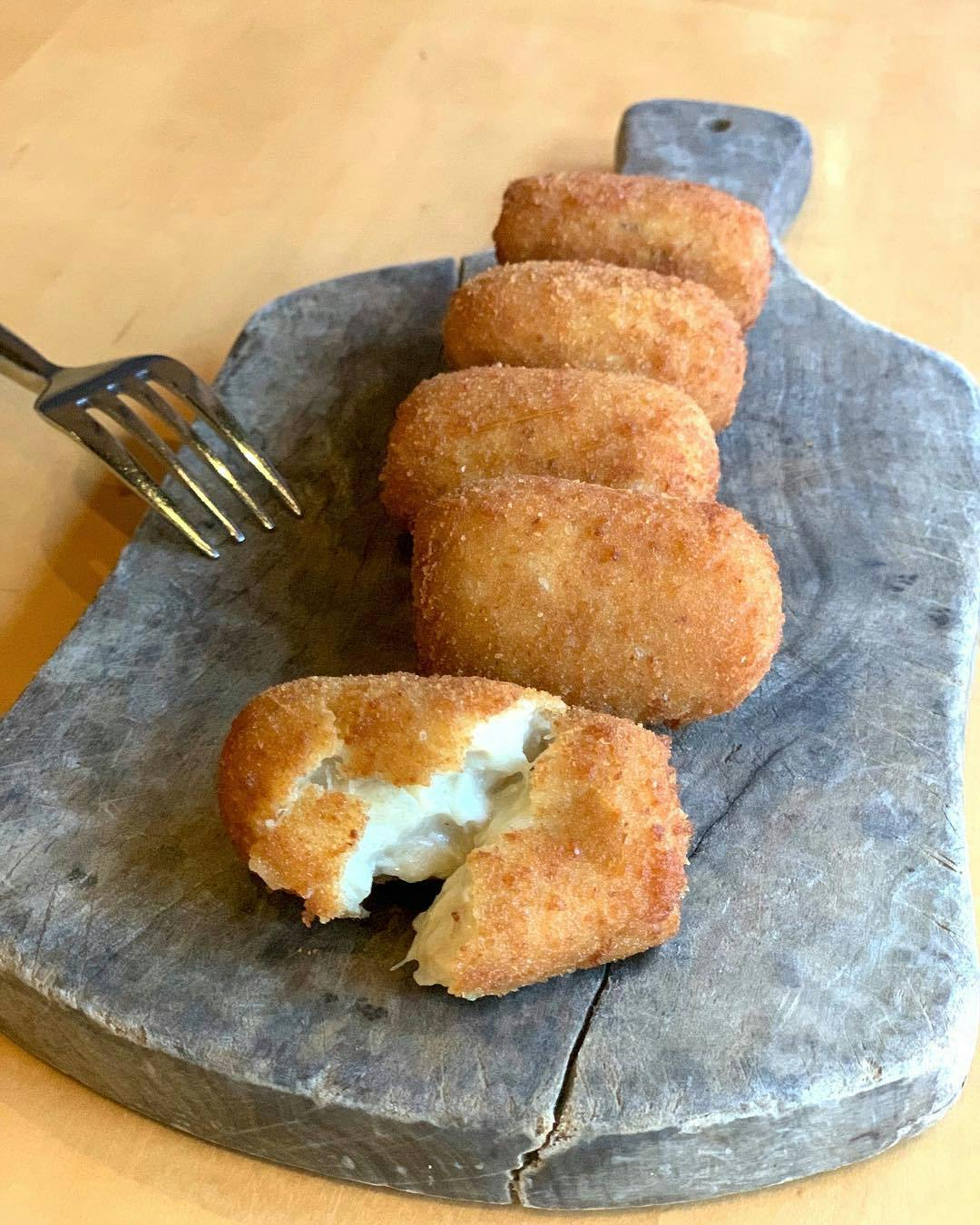 Croquetas de Pavo
Share Article:
Recipe
Croquetas de Pavo
A perfect way to use up leftover turkey
This croquetas recipe would work with pretty much any leftover meat – sub in chicken or beef (or pulled pork, ¿porque no?).
Ingredients
¼ pound (1 stick) unsalted butter
1 small onion, peeled and finely chopped
2½ cups all-purpose flour
4 cups whole milk
½ teaspoon kosher salt
Pinch of nutmeg
10 ounces turkey, cooked and shredded (leftover Thanksgiving turkey works well)
2 large eggs, beaten
1 cup breadcrumbs
2 cups Spanish extra-virgin olive oil (we recommend this blend for frying)
Directions
Melt the butter in a medium sauté pan over medium heat. Add the onions and cook until they're translucent, about 5 minutes. Slowly stir in 1 ½ cups of the flour and continue stirring vigorously until well combined. Cook for about 3 minutes, until the mixture smells nutty and becomes beautifully golden in color. Pour the milk into the mixture, stirring continuously, and continue to cook for about 2 minutes, until you have a thick béchamel sauce. Season to taste with ½ teaspoon of salt and nutmeg.
Add the turkey and mix in until well combined. Cook for another 2 minutes, until you have a thick mixture you can mold in your hands. Carefully pick up a bit of the mixture and try to ball it with your hands. It shouldn't be too sticky. If it does stick to your hands, allow the mixture to cook a little longer. Spread the mixture on a cookie sheet to allow it to cool.
Once it's cool enough to handle, take a spoonful and roll it in your hands to make a small cylinder, about the size of a wine cork. Roll the cylinder in the remaining 1 cup of flour, then in the eggs, and then in the breadcrumbs, and set aside on another cookie sheet. Repeat with the remaining mixture. You should end up with about 36 croquetas.
In a small deep-frying pan, heat the olive oil to 375 F. Working in batches, add the croquetas, making sure they are covered completely in oil. Fry until golden, about 1 minute, then transfer to a tray lined with paper towel to drain. Be sure to allow the oil to return to 375 F between batches.
Season with salt and serve hot.