To get to know Spain is to experience its diverse array of all things marine, from its warm and sunny Mediterraneo to the cool blue waters of Mar Catabrico. At Mar, the seafood tapas menu is a celebration of the country's many coastal regions, with a menu that reflects the bounty of the océano Atlántico which connects Spain and Mercado Little Spain's home in New York.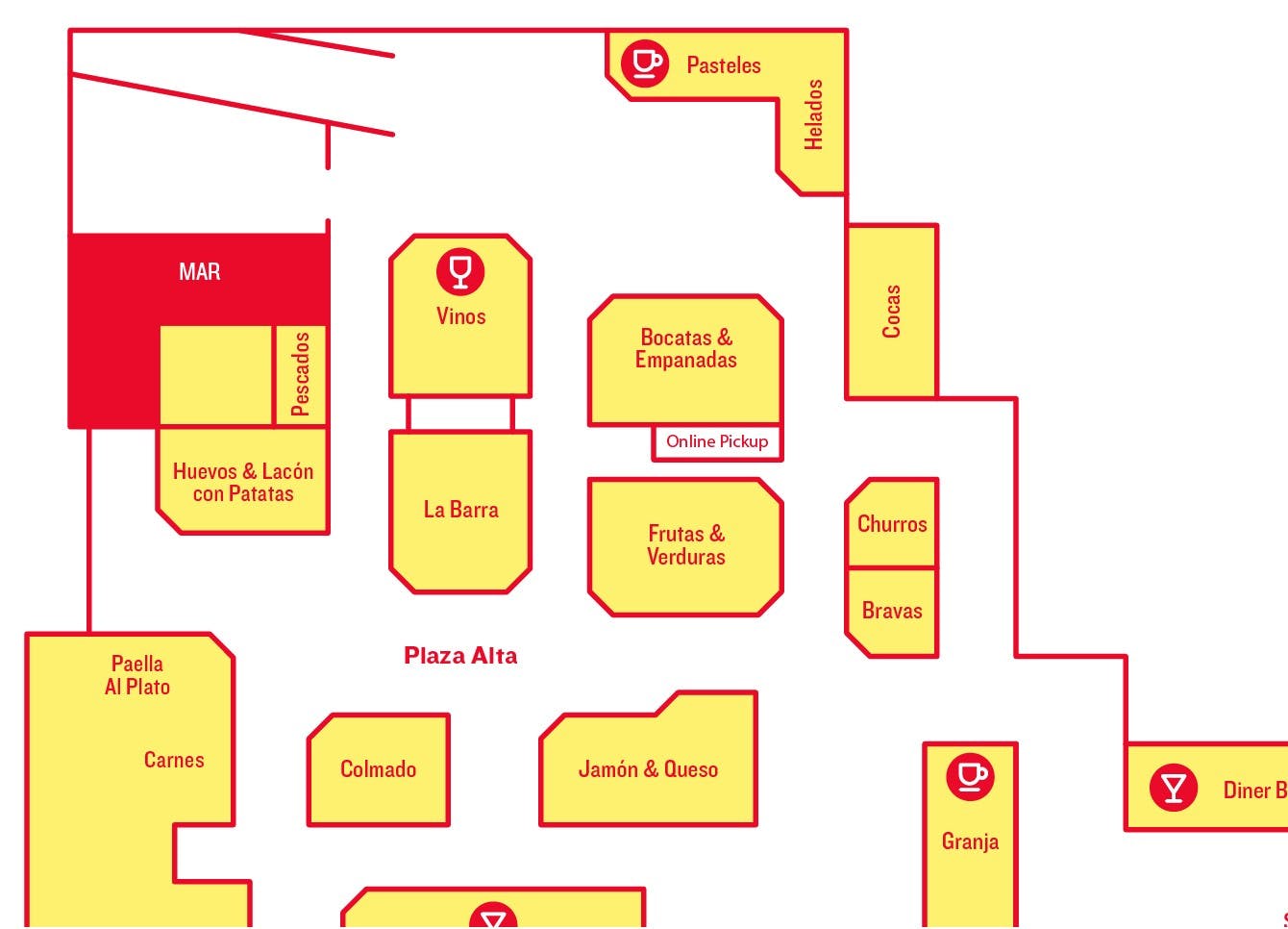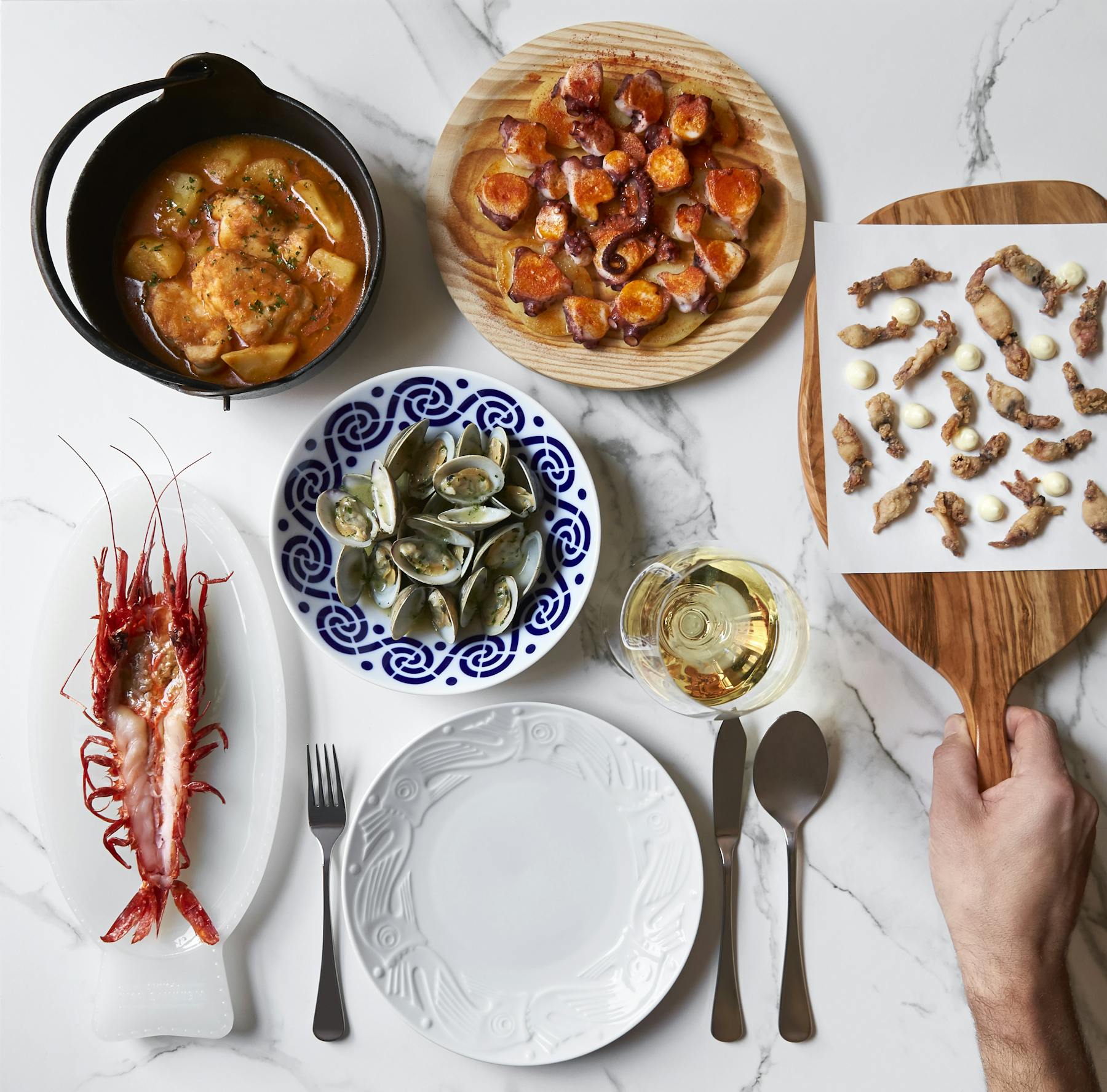 1/4
Mar at Mercado Little Spain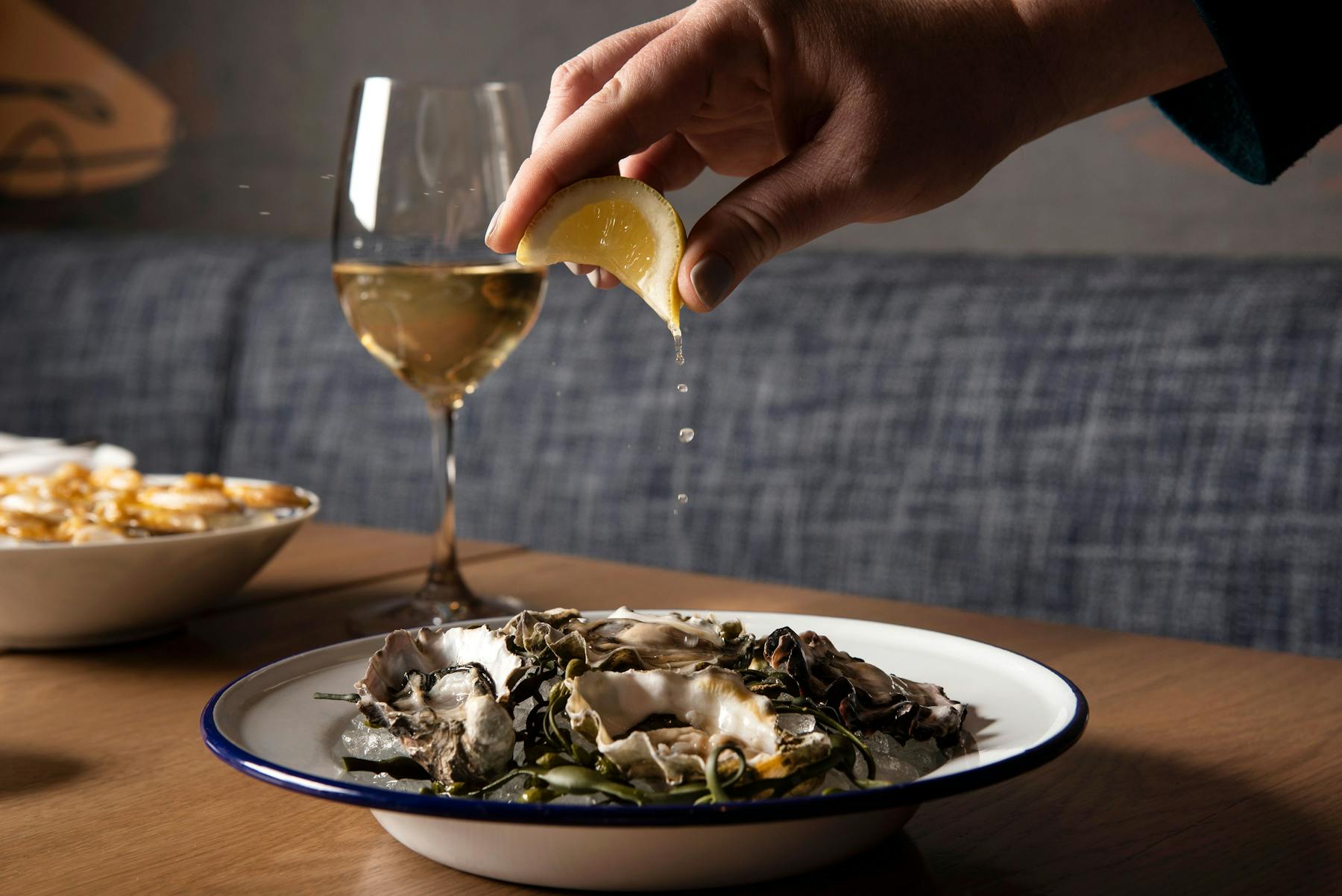 2/4
Mar at Mercado Little Spain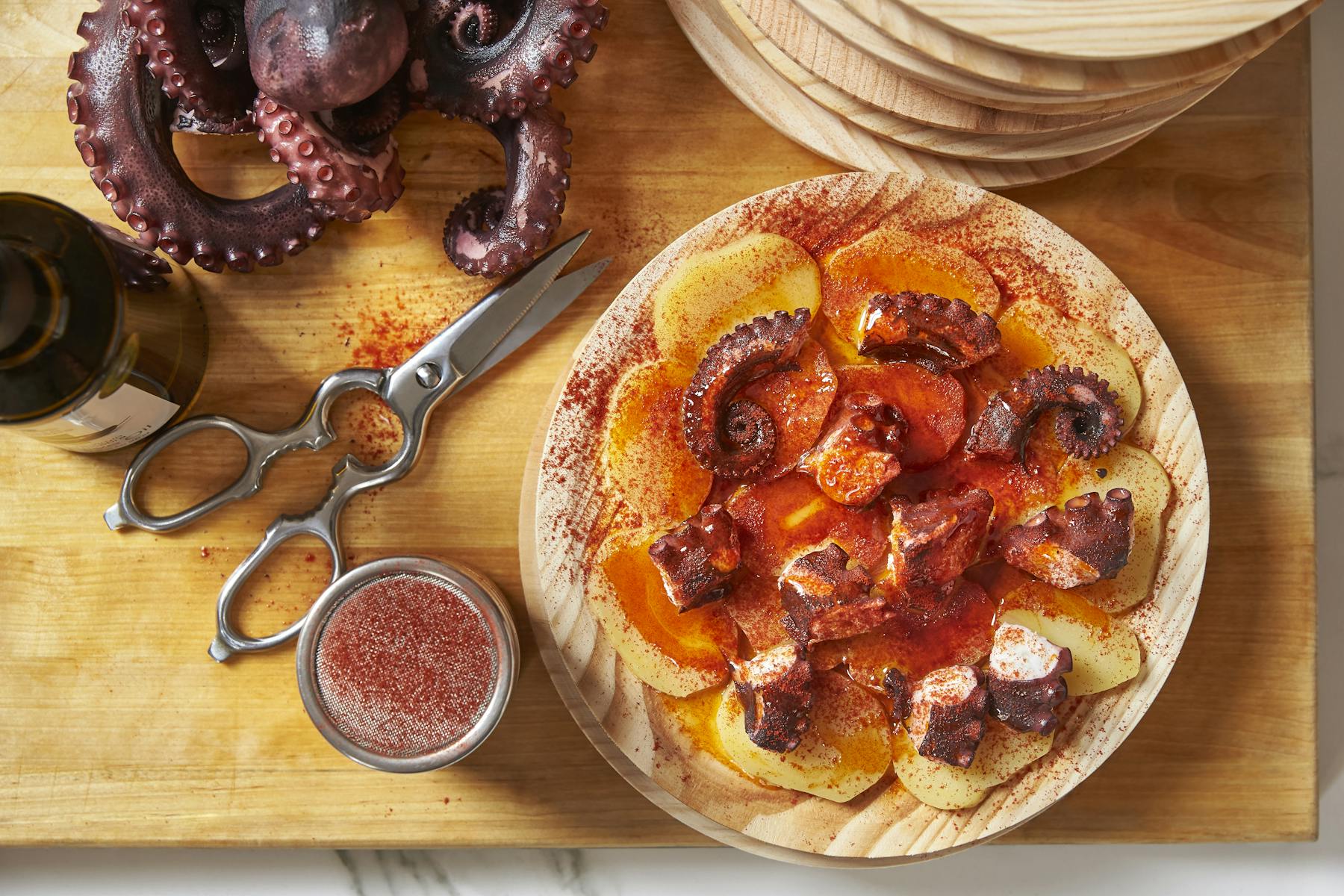 3/4
Mar at Mercado Little Spain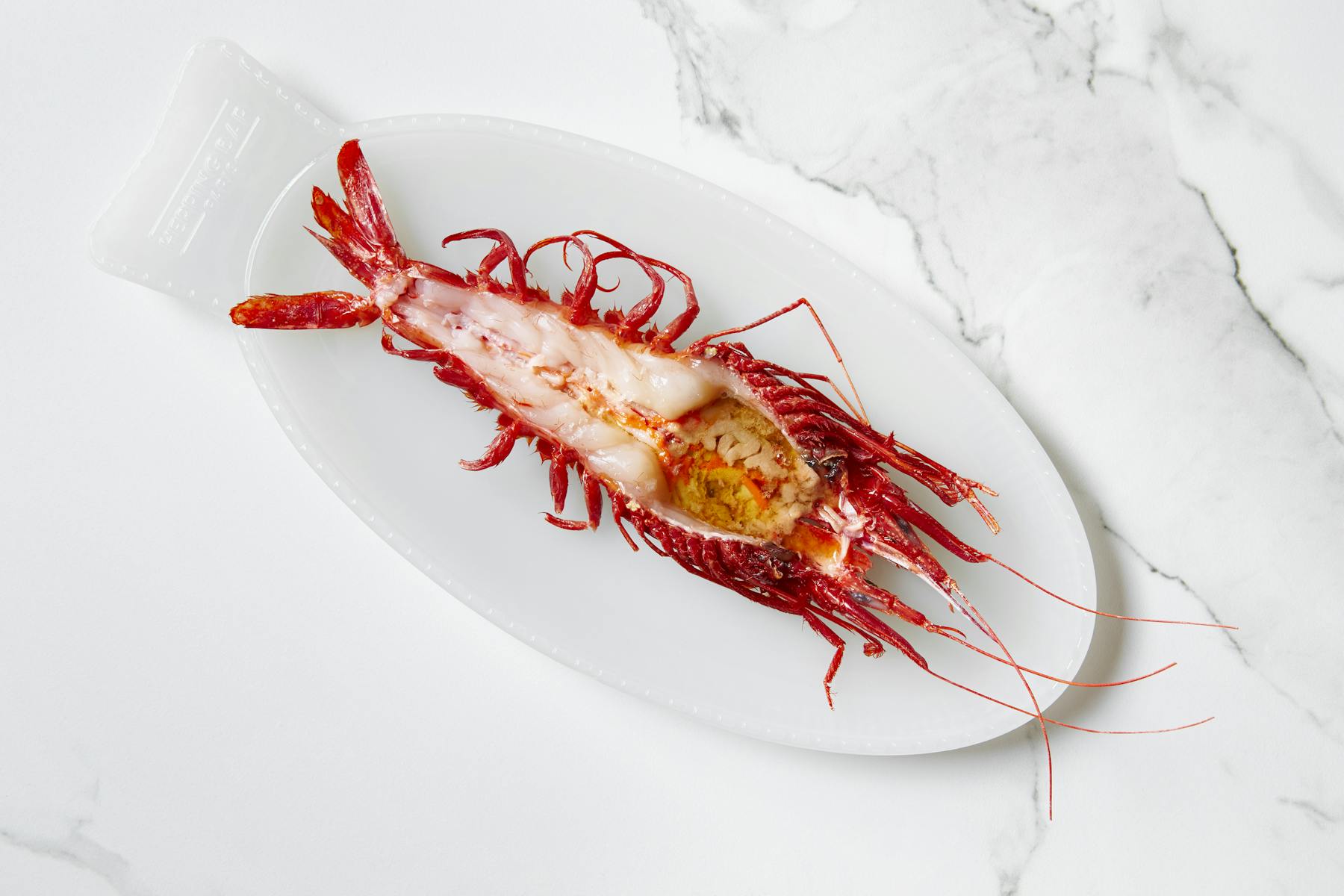 4/4
Mar at Mercado Little Spain
Monday – SUNDAY: 12 PM – 10 PM
Menus
Los Grandes Clasicos

the classic tapas
Del Bar

cold tapas
Pan con Tomate
Our crispy "pan de cristal" from Catalunya, served with brushed tomato and EVOO
Jamón ibérico de bellota
Acorn-fed Ibérico ham cured 48-months
Anchoas de Santoña
Anchovies from Santoña, Cantabria, Spain
Boquerones en Vinagre
Pickled white anchovies from Santoña, Cantabria, Spain
Ensaladilla Ucraniana
Potato, carrots and green peas salad with mayonnaise, canned Spanish tuna, piquillo pepper and pickled piparra pepper
Empanada de Bonito
Galician white tuna and caramelized vegetables empanada
Del La Cocina

hot tapas
Pulpo a la Gallega
Boiled Spanish octopus with mashed potatoes, olive oil and smoked pimentón
Gambas al ajillo
Red shrimp confit with olive oil, garlic, chili, bay leaf and sherry wine
Almejas al Txakoli
Manila clams steamed with Txakoli white wine, garlic and parsley. Served with crispy bread. Soak the sauce!
Tortilla de patatas
Spanish potato and onion tortilla
Croquetas de Bacalao
Cod fish and bechamel fritters
Calamares a la andaluza
Fried squid Andalusian style
Mejillones a la marinera
Steamed mussels with spicy tomato sauce
Arròs A Banda

$20/pp
A Valencian term for rice on the side, Arròs a banda is a dish of rice cooked in fish stock. Typical of coastal areas of Alicante, the dish originated from fishermen who repurposed leftovers, leaving nothing to waste. Our take on this classic includes a cuttlefish sofrito, artichokes, snow peas, and aioli. Don't forget to add your favorite toppings!
Add Your Favorite Seafood!
El Producto

seafood unleashed
Ostras en escabeche ahumado
Shigoku oysters served with smoked escabeche
Vieira con tomate y soja
Scallop crudo with soy sauce, citrus, grated tomato and EVOO
Gambeta roja con mantequilla ahumada
Mediterranean red, brown Butter, lemon zest and tarragon
Bacalao ahumado Carpier
Spanish cured and smoked cod dressed with roasted garlic and sherry vinegar dressing. Served with pan con tomate
Atún rojo con piparras
Red tuna belly crudo, Extra virgin olive oil, piparra pickled peppers and smoked pimentón
Brioche Roll de ventresca de atún rojo y papada ahumada
Toasted brioche roll filled with broken fried egg, smoked bacon, creamy mayo and red tuna belly crudo
Gamba Roja El Bulli 1996
Mediterranean Red shrimp carpaccio, caramelized onion cream, crispy bread
Cogollo "Gilda"
Gem lettuce dressed with olive juice, piquillo peppers, cured anchovies and boquerones
Hamachi "Gilda"
Hamachi crudo, dressed in olive juice, cured anchovies, pickled piparra pepper
Cocina De Mercado

market to table
La Plancha

grilled
Gamba roja a la plancha
Grilled Hawaiian red shrimp (4pc)
Carabinero "Lanzarote
Grilled red Mediterranean King prawn, confit potatoes, fried egg, alioli, and mojo rojo.
Chipirones con sobrasada
Grilled baby squid stuffed with spreadable chorizo ibérico
Los Guisos

stews
Garbanzos con Bacalao
Chickpeas, spinach and codfish stew served with a soft poached egg
Albóndigas con Sepia
Ibérico pork meatballs and cuttlefish stew served with fried diced potatoes
Merluza en salsa verde
Hake stew with snow peas and artichokes
Rabo de toro
Oxtail stewed in red wine and oloroso sherry and served with fried diced potatoes
COMBINADOS
Rebujito
Manzanilla La Guita, Sprite
Virgen de La Paloma
Altos Blanco Tequila, Banhez Mezcal, Fever Tree Sparkling Grapefruit, "Yzaguirre Rosé Vermouth, lime, chili salt
Pomada
Xoriguer Mahón gin, Kas limón,lemon, bergamot
New York Sour
Rye whiskey, lemon, red wine
GINTONICS
Boticario #1
Bombay Sapphire gin, Little Spain Custom Tonic No. 1, orange bitters, citrus
Summer in Sevilla
HalfTone SVQ gin, Fever-Tree Mediterranean tonic, Lustau white vermut, Manzanilla Callejuela, rosemary, lemon peel
Mediterranean
Gin Mare gin, sweet and dry vermouths, Fever-Tree Mediterranean tonic water, lem- on, lime, thyme
Ultimate
Hendrick's gin, Fever-Tree Indian tonic water, citrus, juniper berries
NON-ALCOHOLIC
Kas Limon, Kas Manzana, Kas Naranja, Mexican Coca-Cola, Sprite
Sant Aniol Still or Sparkling Water
VERMUTS (3oz)
La Copa González Byass Rojo
Yzaguirre Gran Reserva 1884
BEER
Estrella Galicia
5.5% euro pale lager
Mahou Cinco Estrella
5.5% euro pale lager
Alhambra 1925
6.4% euro strong lager
CIDER
Trabanco Poma Áurea, Sparkling Cider 2018
SANGRÍA
Sangría Roja "La Sueca"
Fruity, spiced wine on tap
Sangría de Cava
Cava "Marfil", gin, vermouth, seasonal fruit, citrus
Sangría Rosada
Rose, gin, vermouth, seasonal fruit, citrus
GENEROSO / FORTIFIED WINES
Fino Inocente Single Vineyard Valdespino Palomino Fino
Manzanilla Velo Flor Bodegas Alonso, Palomino Fino
Almacenista Amontillado de San Lúcar Lustau Palomino Fino
Oloroso En Rama 15 Años Bodegas Toro Albalá Pedro Ximénez 10