An Iberian take on the classic American all-day restaurant, Spanish Diner features larger portions of Spanish favorites in a casual, high-energy outdoor opened air space set right under the High Line. Dishes like gambas al ajillo, croquetas de pollo, gazpacho, and patatas bravas are all on the menu, along with a focus on regional specialties like fabada asturiana and cocido madrileño. Egg dishes are a specialty with classics like the iconic tortilla española, huevos estrellados, and huevos revueltos.
Spanish Diner also offers a spacious bar area perfect for after-work libations.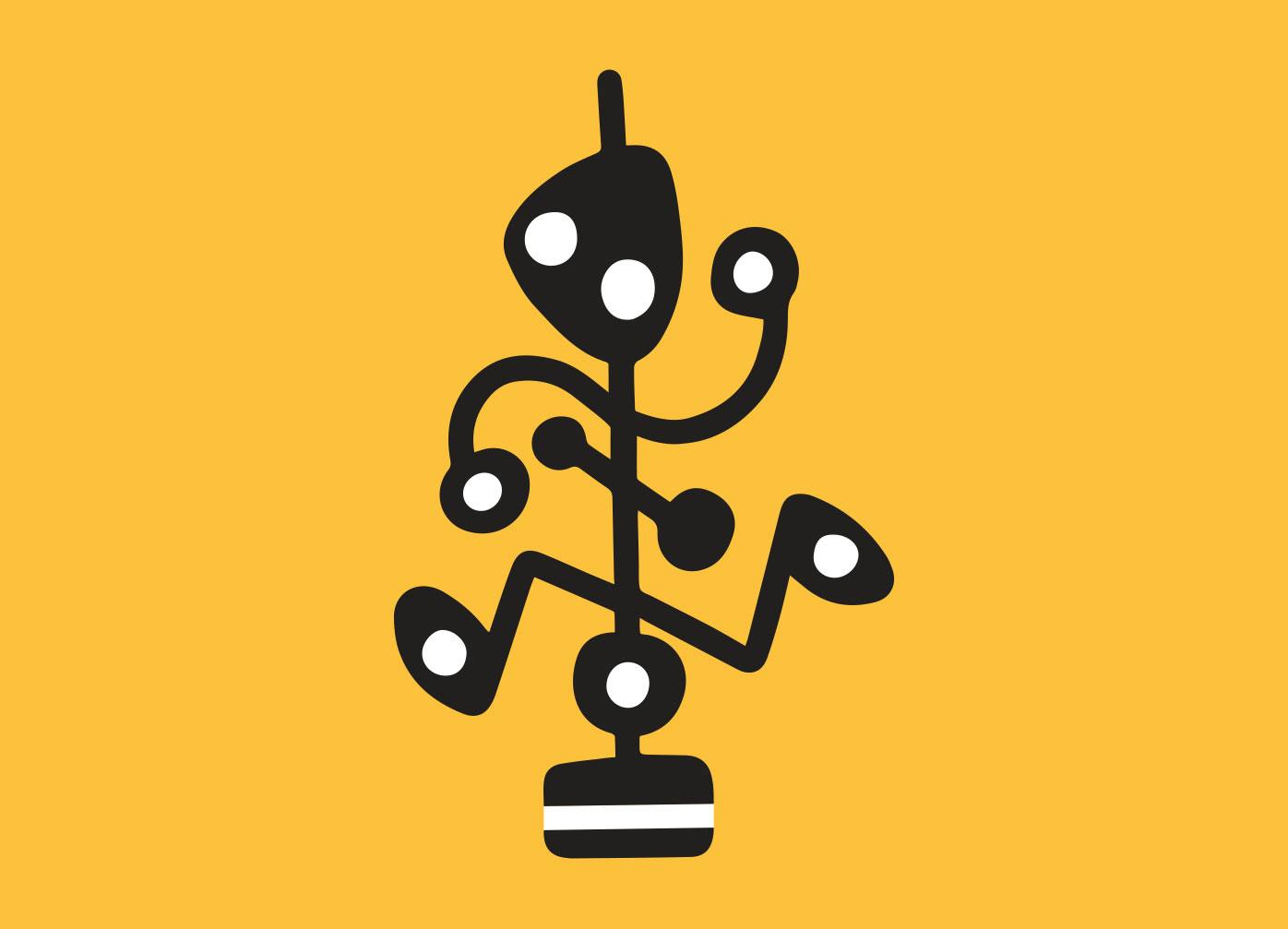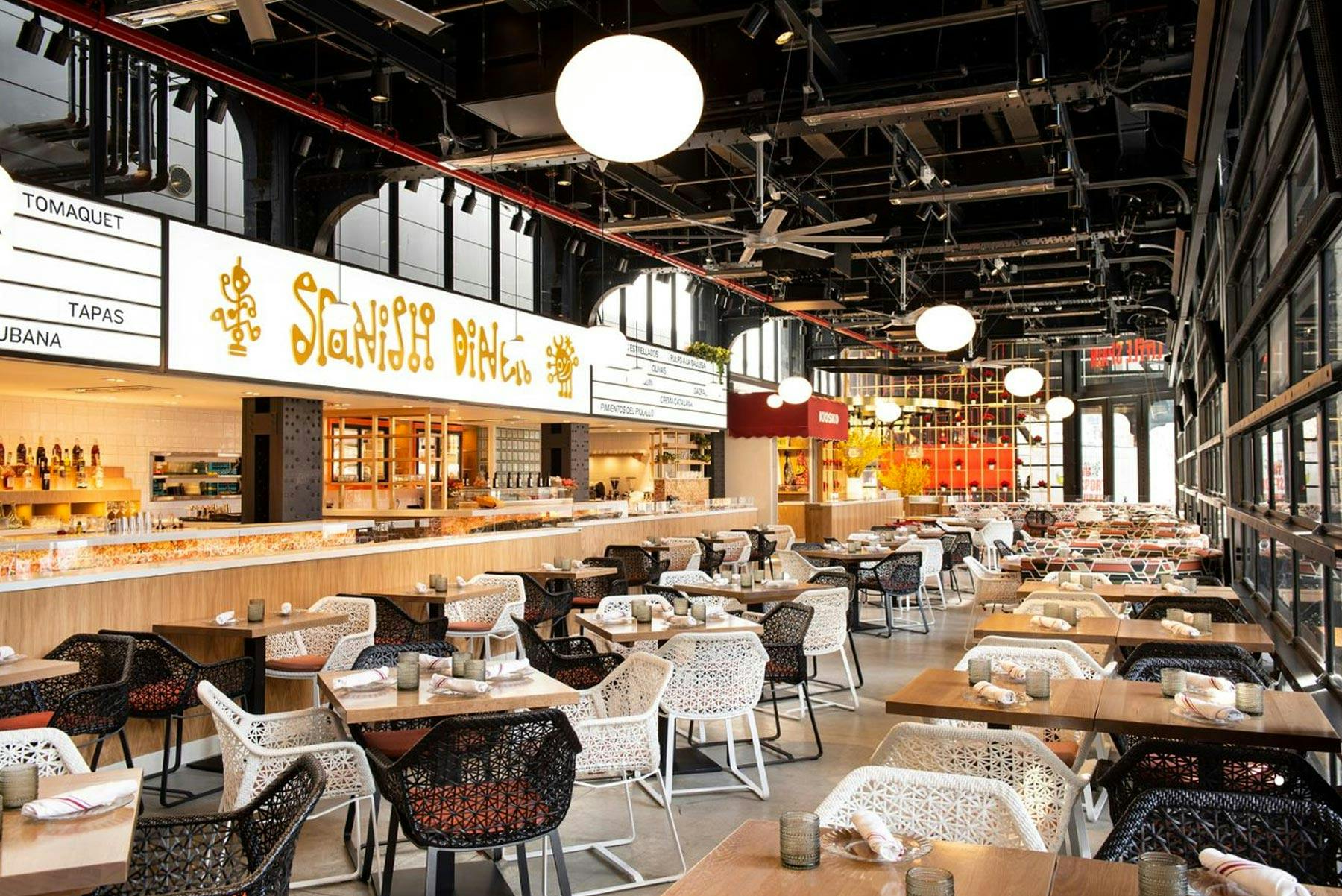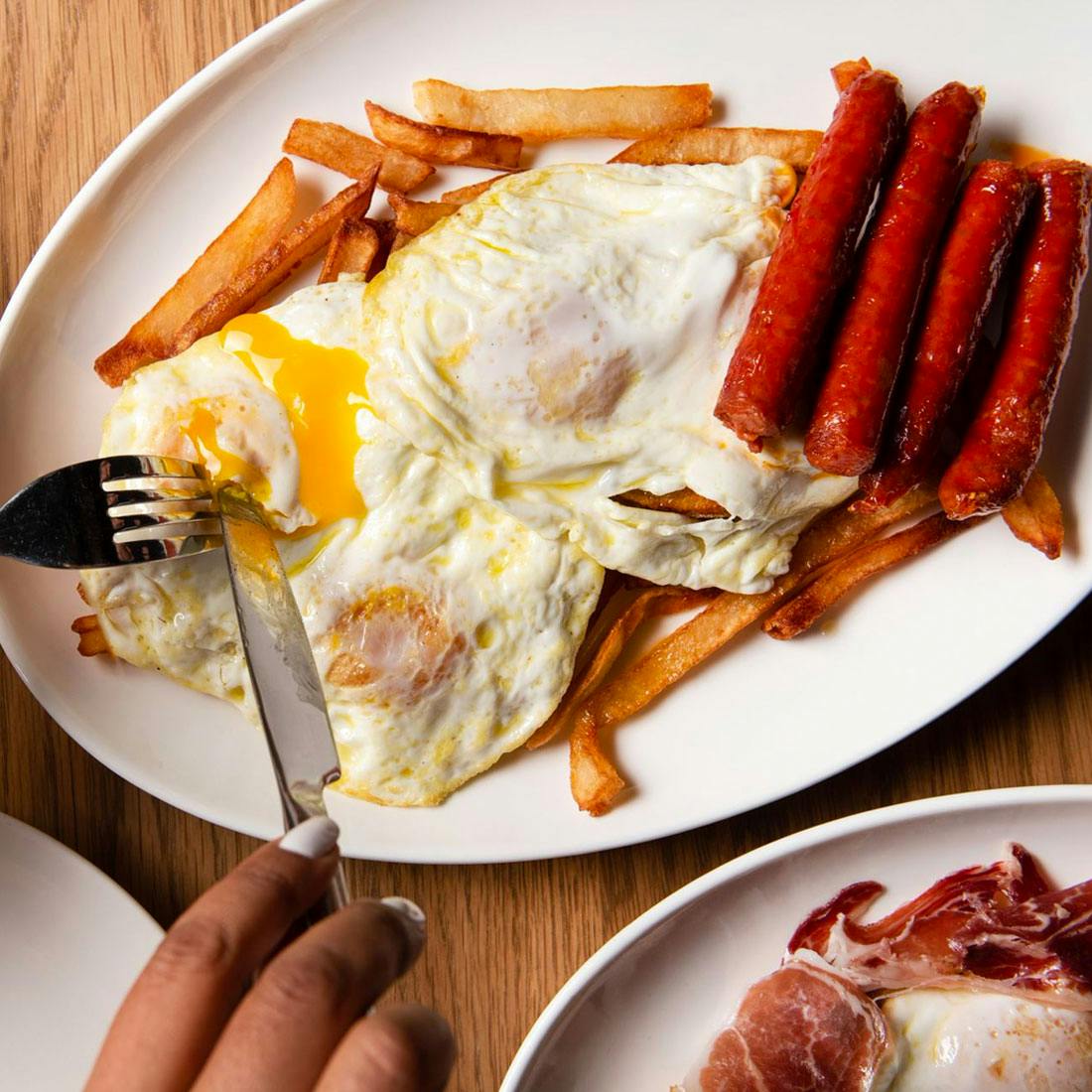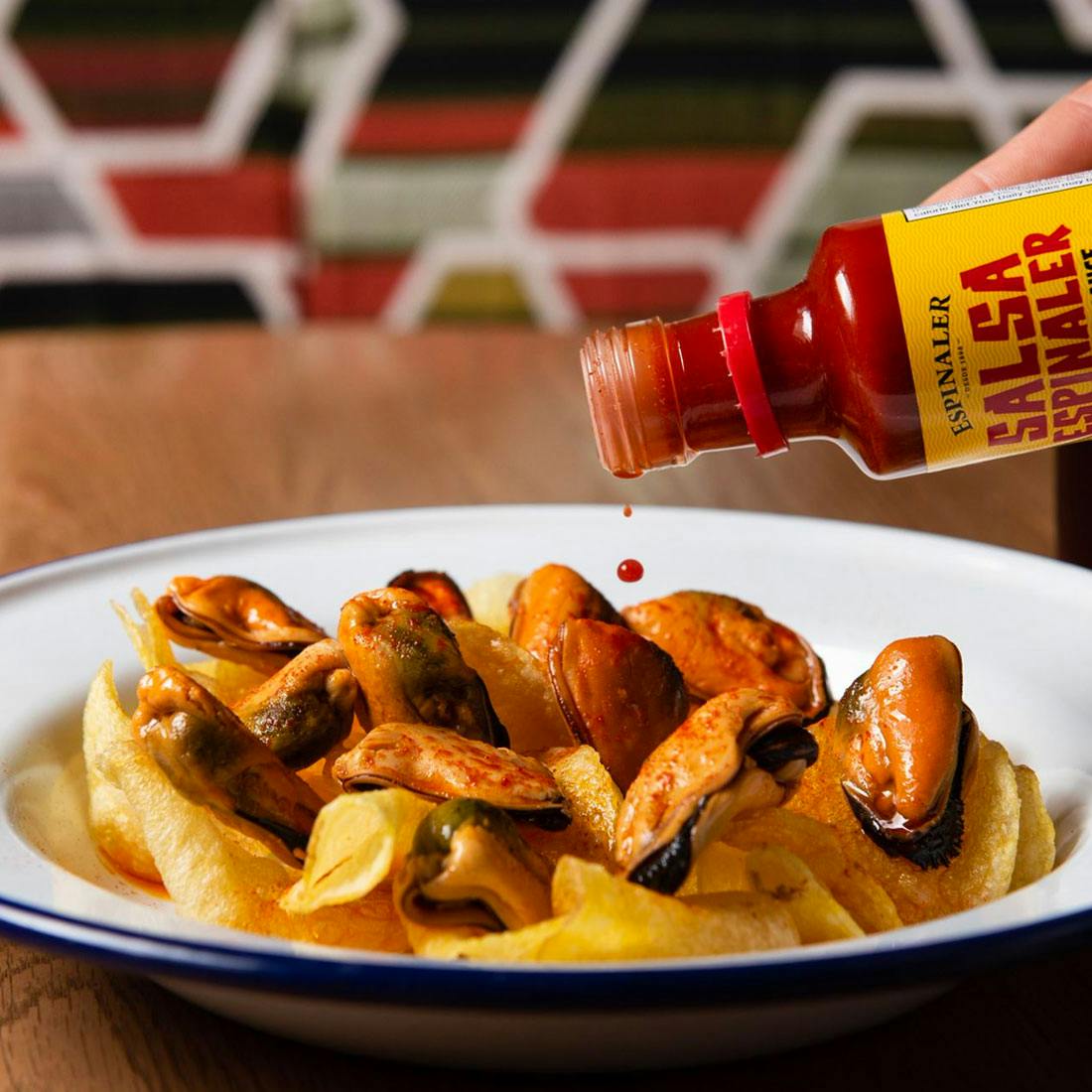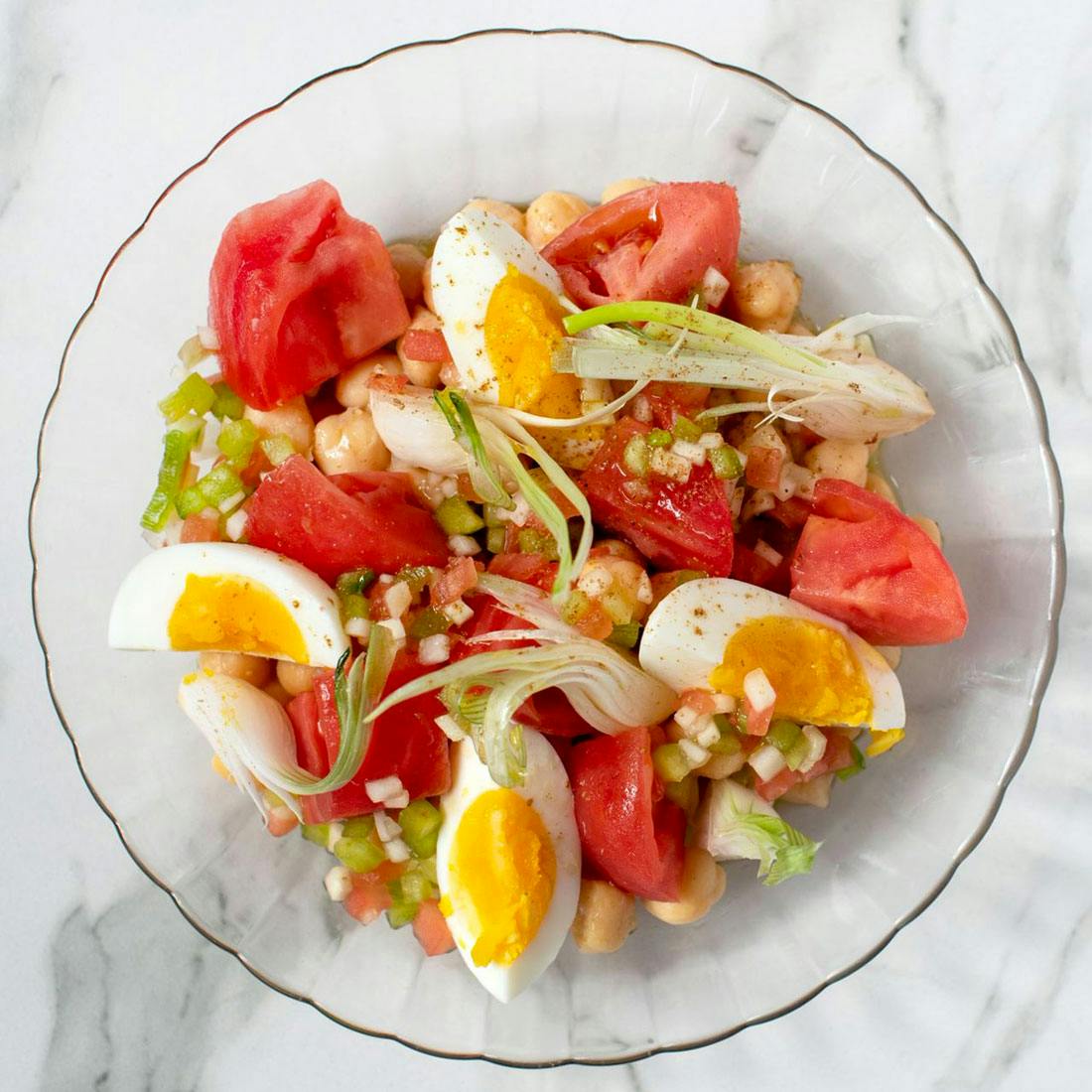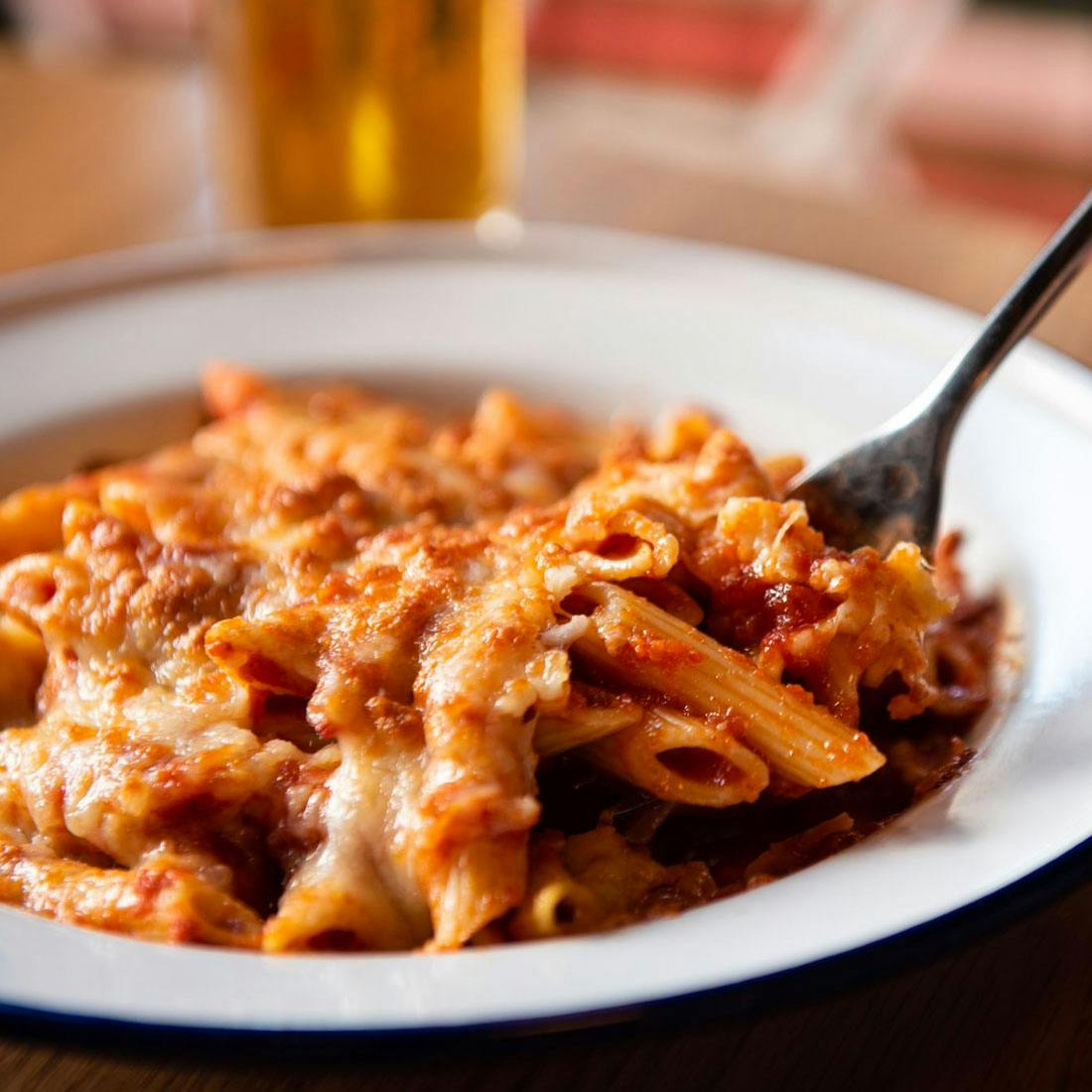 Monday – THURSDAY: 11 AM – 10 PM
FRIDAY: 11 AM – 11 PM (Bar Open until 12 am)
SATURDAY: 10 AM – 11 PM (BAR OPEN until 12 AM)
SUNDAY: 10 AM – 10 PM
Menus
Main Menu
Dessert Menu
Beverage Menu
Sangria Hour
¡COMO EN CASA!
Empanadillas de bonito
Deep fried empanadillas stuffed with Spanish tuna, tomato, onion, peppers, and boiled egg
Aceitunas marinadas
Marinated Manzanilla, Arbequina and Gordal Spanish olives
Vaso de gazpacho
Our very famous Spanish chilled tomato soup served in a glass, like at home!
Patatas chips con mejillones en escabeche
Preserved mussels in escabeche sauce served over potato chips with Espinaler sauce
Patatas chips con boquerones
José Andrés chips, white anchovies and marinated olives
Ensaladilla Ucraniana
Potato, carrots, green peas salad with mayonnaise, Spanish canned tuna and confit piquillo peppers, served with bread picos
Croquetas del día
Chef's daily selection of croquetas
Patatas bravas
Fried potatoes with spicy tomato sauce and garlic alioli
Pincho de tortilla
Spanish omelet made with potatoes and caramelized onions
PICA-PICA
Pan con tomate
Cristal bread brushed with tomato, extra virgin olive oil, salt
Paletilla Ibérica
36-month cured Ibérico pork ham
Jamón Serrano
24-month cured Spanish Serrano ham
Salchichón Ibérico de bellota
Acorn-fed Iberico pork sausage
Chorizo Ibérico de bellota
Acorn-fed Ibérico pork sausage cured in paprika
Queso del día
Chef's daily cheese selection. Ask your server!
Salmón ahumado Carpier
Spanish smoked salmon served with toasted bread and butter
LA HUERTA
Gazpacho andaluz
The very famous Spanish chilled tomato and vegetable soup served with croutons and brunoised vegetables
En España los tomates se comen así
Taste tomatoes like a Spaniard! Served simply with extra virgin olive oil, salt and pepper
Ensalada de aguacate
Avocado, mojo verde and goat cheese
Ensalada de mixta
Romaine lettuce, egg, tomato, onion and Spanish conserved tuna
Ensalada de garbanzos
Chickpeas, tomato, green onion, hard-boiled egg, extra virgin olive oil, sherry vinegar and cumin
Cogollos a la cordobesa con boquerones
Gem lettuce, fried garlic, pimentón, extra virgin olive oil, sherry vinegar and white Spanish anchovies
Ensalada Cesar Giménez
Gem lettuce, grilled chicken, Idiazabal cheese, Spanish anchovy dressing and crispy bread
BOCATAS
Mollete de Jamón Serrano
Crispy bun, Serrano ham, brushed tomatoes and extra virgin olive oil
Mollete de queso
Crispy bun, Manchego cheese, brushed tomatoes and extra virgin olive oil
Mollete de Jamón y queso
Crispy bun, Serrano ham, Manchego cheese, brushed tomatoes and extra virgin olive oil
Bikini mixto
Grilled ham and cheese sandwich
Bikini cuatro quesos
Grilled Spanish cheese sandwich
Bikini "Angel Muro se fue a Mexico!"
Breakfast sandwich with cooked ham, cheese, avocado and fried egg
Sándwich de huevos revueltos y salmón ahumado Carpier
Scrambled eggs and Spanish smoked salmon toasted sandwich
LA COCINA DE LA ABUELA
Coliflor gratinada
Cauliflower, béchamel sauce gratin
Lentejas guisadas con setas de temporada
Spanish lentils stewed with carrots potatoes and seasonal mushrooms
Bacalao con pisto
Fried salted Spanish cod with traditional eggplant, peppers and zucchini stew
Calamares en su tinta
Squid stewed in its ink, served with rice
Macarrones con chorizo
Traditional macaroni with pork and tomato sauce
Canelones gratinados con foie
Chicken, pork and duck foie gras baked pasta with béchamel sauce and cheese. Christmas every day!
Fabada Asturiana
Jose's hometown favorite stew from Asturias! Fabes white beans with chorizo, morcilla, and pork belly! Oh yeah!
Fricando de ternera
Traditional Catalan beef stew, mushrooms, white rice
Albóndigas con sepia y patatas fritas
Ibérico pork meatballs with cuttlefish, tomato sauce, and crispy potatoes
Pollo guisado con arroz
Chicken stewed in caramelized onions and sherry wine served with rice
Callos con garbanzos, morcilla y chorizo
Madrid style tripe stew, chickpeas, morcilla and chorizo served with crispy and warm Spanish bread
CocidoVsRamen
If our grandma was from Japan! Spanish cocido served as a ramen, rich broth served with chorizo, morcilla, ibérico pork belly, carrots, chickpeas, and a fried egg!
PLATOS COMBINADOS
1. Cinta de lomo empanada con patatas fritas, 2 huevos fritos y los piquillos de Jordi Andrés
Breaded and marinated pork loin with glazed piquillo peppers, two fried eggs and fried potatoes
2. Morcilla con salsa de tomate, patatas fritas, 2 huevos fritos
Fried blood sausage, tomato sauce, two fried eggs and fried potatoes
3. Merluza frita con cogollos, pimiento de piquillos, anchoas y mayonesa
Fried hake, mayonnaise, gem lettuce, confit piquillo peppers and Spanish anchovies
4. Arroz a la Cubana
2 fried eggs, sautéed rice, tomato sauce, ibérico pork sausage
5. Pisto Manchego con huevos y patatas fritas
Pisto Manchego, fries and 2 fried eggs
Postres
Tarta de queso
Spanish goat cheesecake
Tarta de chocolate
Basque burnt cheesecake with chocolate
Flan con nata
Traditional Spanish caramelized egg custard with whipped cream
Piña Borracha
Compressed pineapple with rum, lime and mint. Summer vibes!
Brazo de Gitano
Spanish chocolate rolled cake
Tarta de Santiago
Galician style almond cake
Churros con chocolate
Available Fridays, Saturdays, and Sundays only Churros with hot chocolate
Café
Café solo
Single espresso
Café doble
Double espresso
Café cortado
Espresso, splash of milk
Café con leche
Espresso with milk
Café bombon
Espresso, condensed milk
Café con hielo
Iced coffee
FEATURED
Boozy Hot Chocolate
All hot chocolate is topped with dark rum-infused Tres Leches Espuma
Choose From: Aged Caribbean Rum, Bourbon, Single Malt Peaty Scotch, Mezcal
SANGRÍA
Sangría De Cava
Cava, gin, vermouth, seasonal fruit, citrus
Sangría Rosada
Rosé wine, gin, vermouth, seasonal fruit, citrus
Sangría Roja "La Sueca"
Fruity, spiced wine on tap
VERMÚT
La Copa Gonzalez Byass Red Vermut
CÓCTELES
Mercado Mule
Skky Vodka, Fever Tree Ginger Beer, lime juice
Salt Air Margarita
Milagro Tequila, Combier, lime, 'salt air'
La Virgen de la Paloma
Altos Blanco Tequila, Banhez Mezcal, Fever Tree Sparkling Grapefruit, Yzaguirre Rosé Vermouth, arbol chile saltli
Espresso Martini
Vodka, espresso, J. Rieger Caffé Amaro, Giffard Banane du Brésil, bitters
New York Sour
Rittenhouse Rye whiskey, lemon, fruity red wine float
Blanco Negroni
HalfTOne SVQ gin, Trabanco Alma Quinquina en Rama, Lustau white vermut
GIN TONIC
Ultimate
Hendrick's Gin, Fever-Tree Indian Tonic, citrus, juniper berries
Mediterranean
Gin Mare, Fever-Tree Mediterranean Tonic, sweet and dry vermút, citrus, thyme
Boticario #1
Bombay Sapphire Gin, MLS custom tonic, orange bitters, citrus
LOS CLÁSICOS
Rebujito
La Guita Manzanilla, Sprite
Kalimotxo
Red wine, Coca-Cola
SIDRAS
Trabanco Sidra Asturiana
(4 oz pour)
SPIRIT-FREE
La Gran Manzana
Zumo de manzana, Fever Tree Ginger Beer, lemon, candied ginger
SIN-ALCOHOL
Coca-Cola, Diet Coke, Sprite, Kas Limón, Kas Naranja, Kas Manzana
Sant Aniol sparkling water
PICA PICA
Aceitunas marinadas
Marinated Manzanilla, Arbequina and Gordal Spanish olives
Croquetas del día
4 of chef 's daily selection of croquetas
Empanadillas de bonito
Deep fried empanadillas stuffed with Spanish tuna, tomato, onion, peppers and boiled egg
Mollete de jamón serrano
Crispy bun, Serrano ham, brushed tomatoes and extra virgin olive oil
Mollete de queso
Crispy bun, Manchego cheese, brushed tomato and extra virgin olive oil
BEBIDAS
Virgen de la Paloma
tequila, lime, grapefruit, club soda
Red Sangría
fruity, spiced wine on tap