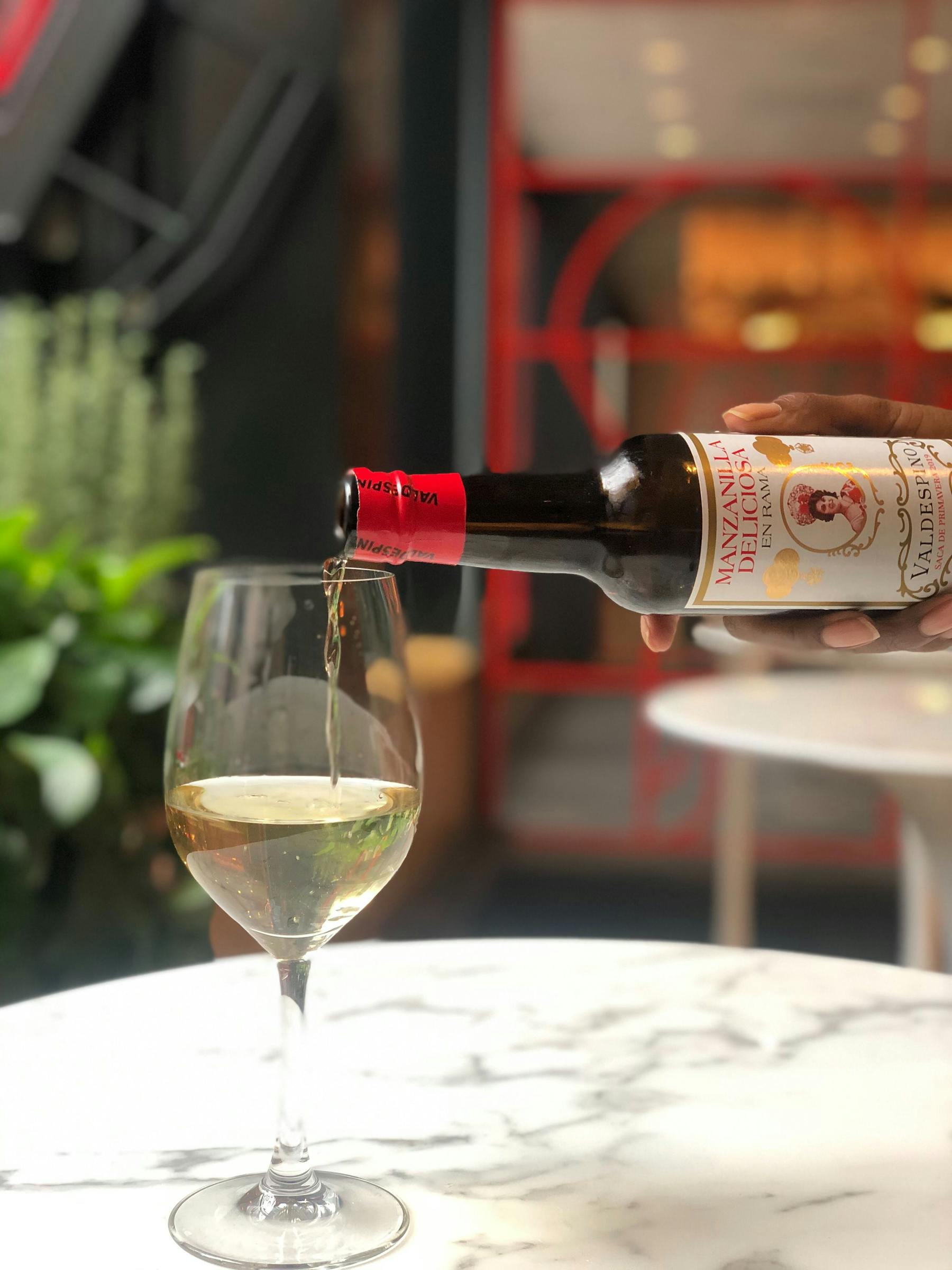 Sherry, Southern Spain's Famous Fortified Wine
Share Article:
Culture
Sherry, Southern Spain's Famous Fortified Wine
It's the perfect partner to Spain's favorite salty snacks
Share Article
Sherry, Southern Spain's Famous Fortified Wine
Back to El Blog
Sherry, Southern Spain's Famous Fortified Wine
Sherry, whose name is derived from the Andalusian town of Jerez, is one of southern Spain's most famous exports (besides tapas, of course!). Sherry is a complex and mysterious wine that goes through processes that are considered strange or even problematic in most other wine regions. After the initial fermentation, which involves Palomino, Moscatel, and/or Pedro Ximénez grapes, the wines are mixed with distilled alcohol to stop the fermentation process (Sherry is in the family of fortified wines alongside Port and Madeira). Sherries are then aged in barrels, where they are exposed to both natural yeasts and oxygen, giving them a wide range of flavors unusual to other wines, from dry salinity to nutty toastiness to unctuous dried fruits. Most styles rely on a solera system of aging in which barrels of sherry are partially emptied and replenished, making each bottle a near-infinite blend of vintages. The flavor possibilities in a solera system are endless.
The other unique element of some styles of sherry is the layer of yeast known as flor (Spanish for "flower"), under which many of them are aged. This yeast grows spontaneously in the warm air of southern Spain, and allows the wine underneath to ferment and age without any oxidation. While the growth of flor was once considered a flaw by winemakers, it's now celebrated for its ability to make dry, fresh wines, perfect for the heat of Jerez – and for the salty tapas always served alongside.
Sherry is not just one style but multiple, depending on where it's made, how long it's aged, and whether it develops under flor. It can seem complicated, but with a little reading (and a lot of tasting!) you'll be ordering your favorite sherries with your tapas in no time. To learn more, come to Vinos, where we have five sherries by the glass and almost 20 by the bottle, including a handful of rare magnums!
Here's a quick rundown to get you started.
Fino - These are the lightest sherries – they are dry, nutty, and a bit salty like the ocean. They're aged underneath flor so they become crisp and clean without any oxidation. They're perfect with salty snacks and tapas – think olives and anchovies.
Manzanilla - A type of Fino, Manzanillas are made exclusively around the coastal town of Sanlúcar de Barrameda. This proximity to the ocean makes Manzanilla a bit more saline than other Finos, with a nice green apple fruitiness. It's delicious with seafood – try some Manzanilla with raw oysters or tuna, little fried sardines, or gambas al ajillo.
Amontillado - Amontillado is aged under flor for at least 3 years and is also exposed to oxygen, giving it a nutty, savory, caramelized flavor – a perfect pairing for the most famous southern Spanish soup, gazpacho, as well as aged cheeses or even asparagus (a notably difficult food to pair with).
Palo Cortado - Palo Cortados are a rare and mysterious breed of sherry, notably because the protective layer of yeast that covers an Amontillado inexplicably disappears. The process gives Palo Cortados a rich, salty complexity, perfect alongside Marcona almonds, cured meats, and olives.
Oloroso - Oloroso is intentionally exposed to air during the aging process, making it the most oxidative of the sherries. It becomes a deep, nutty, rich flavor. Oloroso can be absolutely stunning with blue cheese, and loves meat – jamón and oxtail especially.
Cream / PX - These might be the sherries that you think of when you think of the drink – sweet, rich, and a bit viscous. There are a variety of ways to make them, but most rely at least in part on PX grapes, that is, Pedro Ximénez. At their best, they are beautiful and lush, and are perfect with a cheese plate, some nuts, or on their own after dinner.