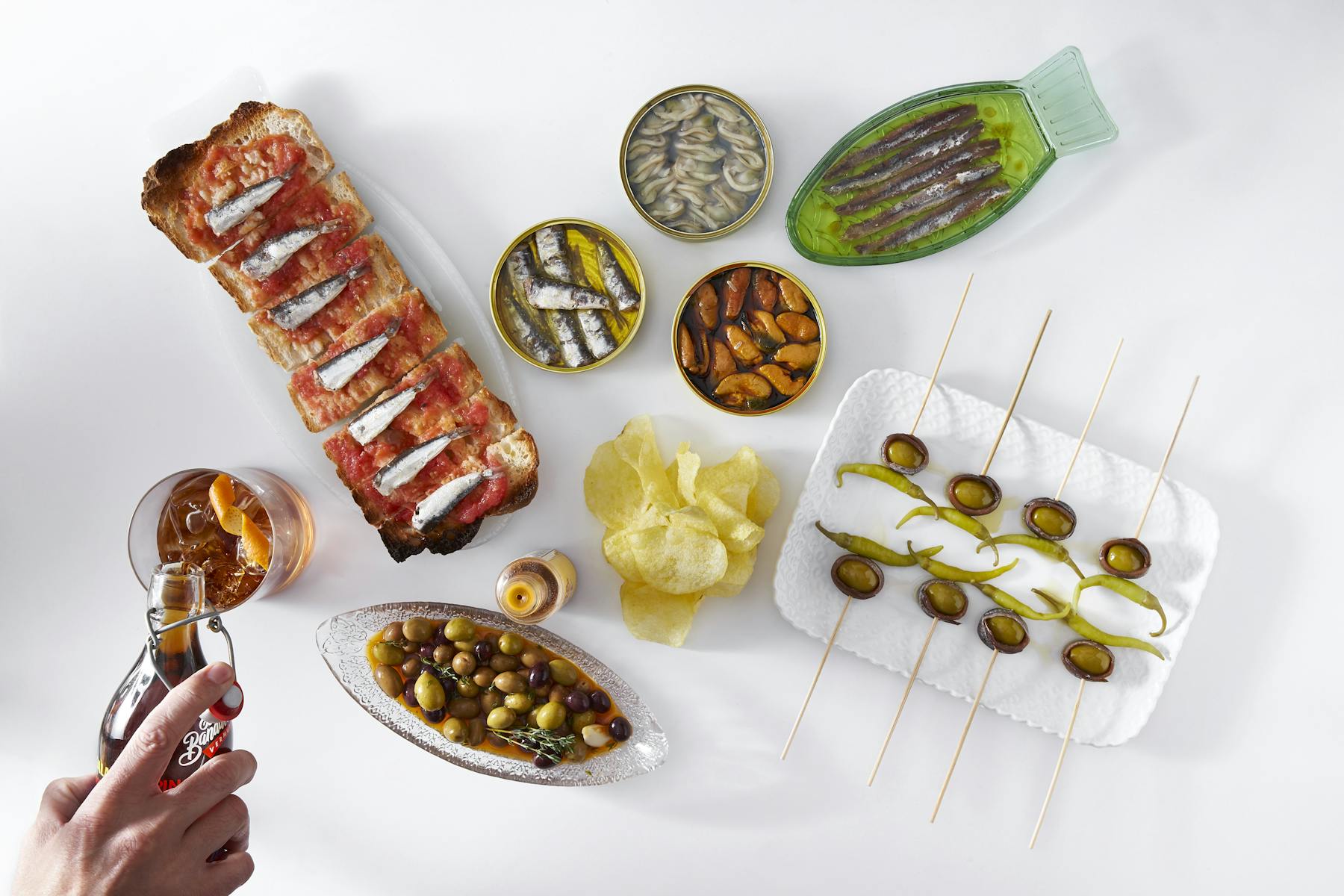 Little Spain Dining, Decoded
Share Article:
How To
Little Spain Dining, Decoded
Little Spain Dining, Decoded
We have some big news: We recently reopened our live-fire restaurant, Leña, where you can now join us for Spanish-style grilled favorites every weekend. But what if you're craving, say, a lunch where you can broker a big deal? A snack after work? A first date with a side of delicious food? Look no further. We've decoded Little Spain's restaurants to suit every dining desire:
Fam-Friendly Lunch & Brunch: Spanish Diner
Because it opens every day at 11:30 a.m., make Little Spain's answer to the all-day restaurant your first stop for brunch or lunch with the kids: Comfortable outdoor seating (read: plenty of space to spread out!) on a wide patio that looks out on the High Line, a selection of fried eggs served with potatoes (a la the classic Madrid restaurant Casa Lucio), and Spanish comfort food classics mean there's always something delicious for the little ones and grown-ups alike. (And if Mom and Dad happen to order a glass of wine or a cold cerveza, no one's judging!)
After-Work Catch-Ups: Bar Celona
If you've started to head back into the office — or are just craving some in-person time with your coworkers — skip the expected pub and head to Bar Celona for a taste of Spain's traditional vermuterias. Catch up over a selection of vermouths served with a refreshing splash of soda water and bites like pan con tomate with a variety of toppings and Lena's "Top Ten" dishes.
Non-Awkward First Date: La Barra
Even the best first dates could use a little help. Enter La Barra's extensive selection of Spanish tapas (ranging from Gambas al Ajillo to chicken croquetas to marinated olives — all meant to share), and you've got a menu full of instant conversation-starters. If you want to keep things even more casual, swing by for Sangria Hour every weekday from 3 to 6 p.m. for specially priced nibbles, beer, wine, and yes, red sangria by the glass.
Special Occasion Dinner: Leña
Charcoal-roasted artichokes with romesco sauce. Charcoal-roasted Spanish octopus, smoked paprika with olive oil mashed potatoes. Charcoal-roasted Ibérico pork baby back ribs glazed with a spicy Madrilenian sauce. If you're sensing a theme here, you're right: Leña is all about the open fire and celebrating Spanish grilled favorites. No matter what special occasion you're marking, don't miss the La Txuleta section of the menu, which highlights Pat LaFrieda 60-day dry-aged ribeyes in preparations like a beef tartare roll, oak wood-roasted ribeye, and a decadent burger served with Los Cameros cheese, our nonsecret sauce, and pickled piparra peppers from the Basque country.
Born in January? No worries. We've got you covered with beach vibes year-round at our bar that toasts Spanish summer drinking culture. Invite a few friends to the bar to join you for bocatas (aka sandwiches filled with Spanish favorites like melty Manchego cheese and cured ham), a selection of effervescent G&Ts, and even a few frozen drinks that'll have you feeling like it's mid-July in no time.