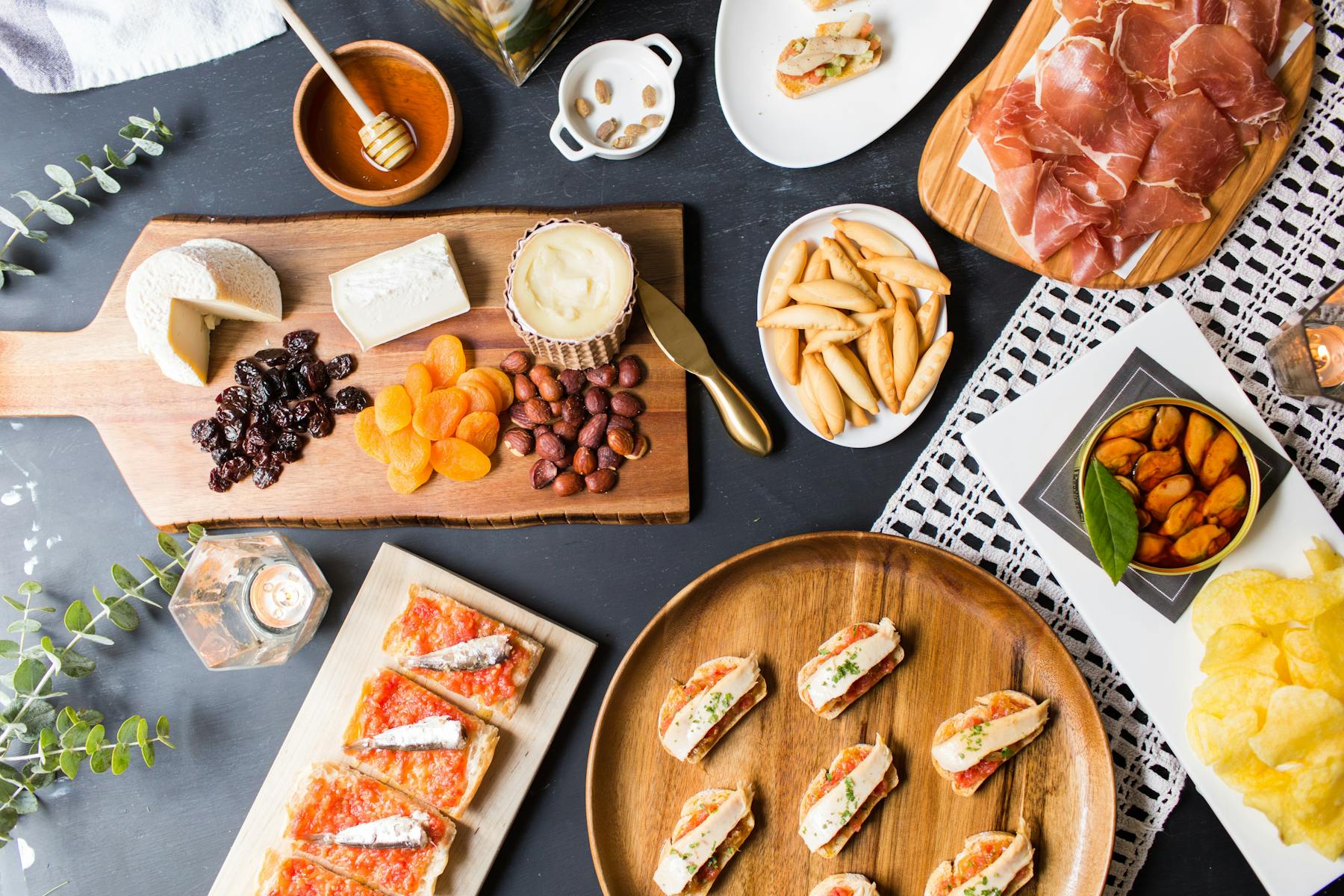 How To … Throw a Tapas Party
Share Article:
How To
How To … Throw a Tapas Party
Whether you're in Madrid or Manhattan, you can host your own tapas party
How To … Throw a Tapas Party
Tapas are not just a typical meal throughout Spain; they are much, much more than that. As Chef José Andrés has said, "Tapas are at the same time a simple way of eating and an entire way of life … they are a commitment to being together, sharing dishes, sharing an experience." This shared experience is a great way to gather your friends and family – for dinner, for conversation, and for fun. Here are some tips and recipes for hosting your own tapas party – without too much stress.
The key to a successful tapas party is balance – both for the dishes on the table and for your own sanity. Pick a handful of tapas that provide a variety of textures, flavors, and time commitments. Mix cold and warm, meat and vegetable, and prepare-ahead and last-minute. And ask for help! No one would turn down an opportunity to help prepare the feast, especially if you offer a glass of wine for their service.
Plan a few bites of each dish per person – the goal is for everyone to feel satiated at the end of the night, but not stuffed. Start with some snacks: a few Spanish cheeses, like nutty Manchego, smokey Idiazabal, and sharp Cabrales or some jamón (all available at the Jamón & Queso Kiosk); some almonds, tinned seafood, olives. If you're feeling ambitious, marinate the olives yourself to add extra layers of flavor. And don't forget the bread – slices of baguette are the basis for montaditos, or two-bite open face sandwiches.
Make some of the classics: tortilla española, the iconic egg and potato dish, can be found at tapas bars throughout Spain. It can be served warm, room temperature, or cold, so you can make it ahead and serve it however you like. Pan con tomate is a perfect starting point for all sorts of toppings, including jamón, anchovies, and more. Gildas are great to make ahead as well - salty, spicy bursts of flavor, courtesy of olives, anchovies, and piparra peppers.
And if you want to push yourself a bit, go for some more challenge tapas. Croquetas aren't difficult but can take a little time to individually roll and fry them – but the job is much easier with some extra hands. Pulpo a la Gallega is an octopus dish with a long history and requires a bit of finesse – though with some practice, you'll have the tenderest tentacles this side of Madrid. Patatas bravas are another classic and require a few different sauces – well within your capability, though.
Don't forget the drinks! Pick crisp sparkling wines like Cava, light Spanish whites like Albariño and Txakolina, or reds like Garnacha. Or if you're feeling adventurous and want to try something different, go for Sherry: bright, mineral Finos and Manzanillas will change your friends' minds about the Southern Spanish wine. Beer works, too – Spaniards love their beer ice cold and served in a small glass, best for keeping perennially filled with chilled bubbles. Mixed drinks are also a great option - the iconic Gintonic (here's José's favorite recipe) or a splash of vermouth with sparkling water will keep everyone in good spirits.
So … your place, Saturday night? We'll be there.