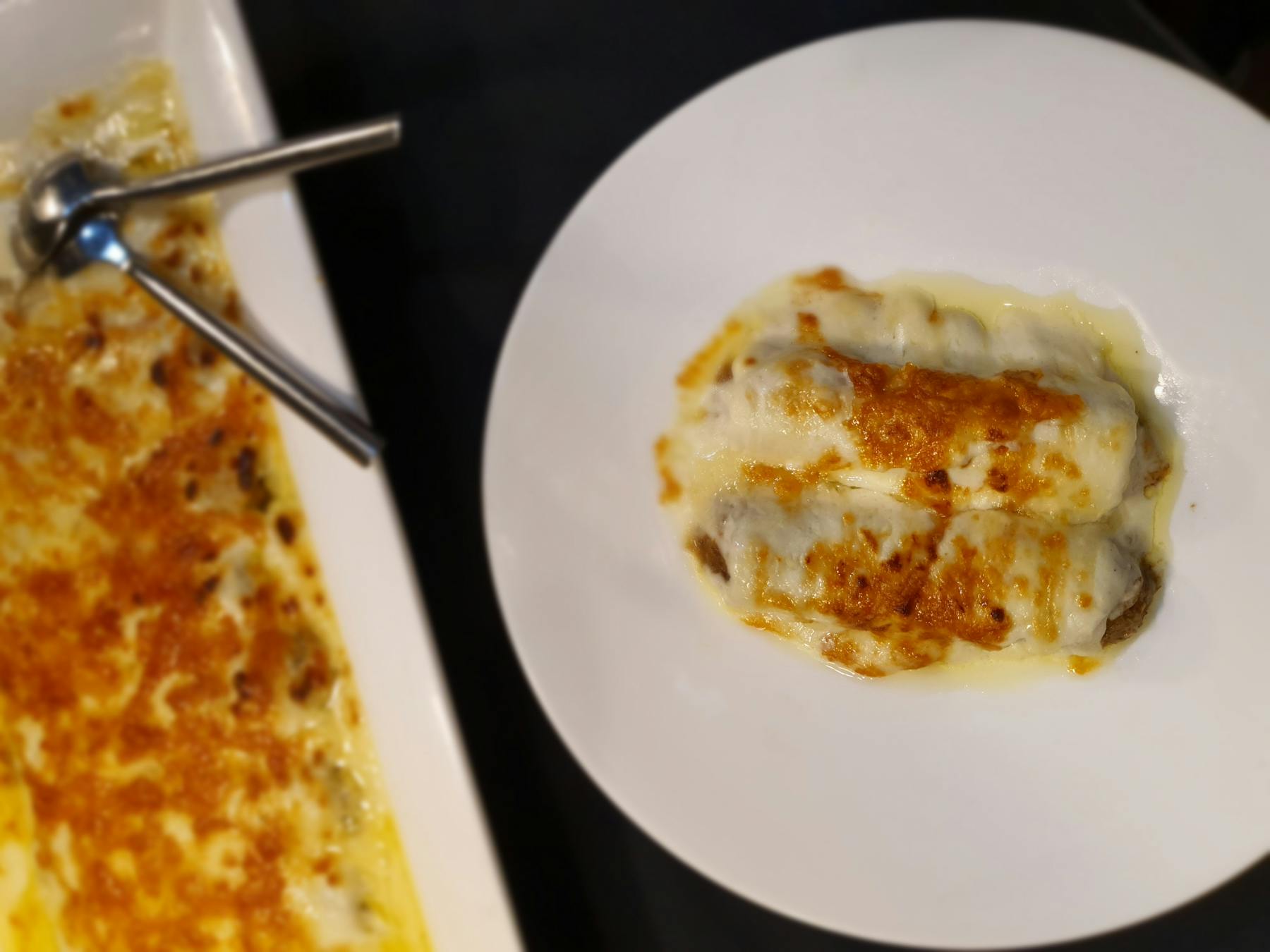 Canelones de San Esteban
Share Article:
Recipe
Canelones de San Esteban
The Catalan day-after-Christmas Classic
This dish is made in households across Catalonia on the day after Christmas, using up any and all meat leftover from the previous days' feasting. Anything really works here for the filling – the key is to make sure it is finely minced or ground before stuffing the pasta. If you have a meat grinder or Robot Coupe, you can grind it finely after cooking it down with the onions, garlic, brandy, and milk (see Note 2); otherwise, mince it finely beforehand and cook it all down. Chicken or duck liver also makes a great and traditional addition – at Spanish Diner we use foie gras, but any liver will do. Just make sure to add it at the end of cooking the meat and let the residual heat, and the baking of the filled canelones themselves, cook them through; otherwise they will be tough and rubbery. A final note: freshly grated black truffle takes this dish from extraordinary to otherworldly – and 'tis the season for Spanish truffles, after all. ¡Felices fiestas!
Canelones de San Esteban

Serves 6-8
Ingredients
Canelones Filling
2 tablespoons Spanish extra virgin olive oil
1 large onion, chopped
2 cloves garlic, minced
2 sprigs thyme, leaves only
2 pounds of leftover meat, very finely minced [see Note 1] (chicken, turkey, pork, lamb, sausage, or beef all work here – or a blend. Liver is a traditional addition – see Note 2.)
1 cup Spanish brandy
1 cup whole milk
¼ cup heavy cream
Salt, to taste
Bechamel Sauce
½ gallon milk
8 tablespoons butter
1 small onion, finely chopped
1 cup flour
¼ teaspoon nutmeg
½ teaspoon white pepper
Salt, to taste
Canelones
1 tablespoon extra virgin olive oil
1 teaspoon salt, or to taste
20 sheets cannelloni pasta
Canelone Filling
Bechamel Sauce
1 tablespoon butter, in small cubes
½ pound Manchego cheese, grated
Black truffle, optional
Directions
For the Filling
In a large oven-proof sauté pan, heat the olive oil over medium heat. When it's hot, add the chopped onion, the minced garlic, and the thyme and cook for 3-5 minutes, until fragrant and starting to caramelize. Add the finely minced meat to the pan and sauté for a minute or two, then add the brandy. Reduce it over medium heat for 8-10 minutes, then add the milk and heavy cream. Cook it all down for 10 minutes, then taste and adjust the seasoning with salt. If you're using liver, mince it finely and add it raw when the meat comes off the stove – the residual heat will cook it without making it tough and rubbery. You can mix in some bechamel at this point if it doesn't feel creamy enough – the filling should be smooth and luxurious. Cover it with plastic wrap for 10-15 minutes.
For the Bechamel
In a small saucepan, heat the milk over low heat. In a medium saucepan, add the butter and onions and cook on medium until the onions are translucent. Add the flour and stir to make a thick paste, known as a roux. Cook the roux for 5 minutes until it starts to smell a little toasty, stirring occasionally to make sure it doesn't burn. When it is a little nutty and toasty, slowly add the warm milk, stirring constantly to combine, then keep cooking until the mixture thickens. Break up any lumps you see with a rubber spatula or wooden spoon. Add the ground white pepper and nutmeg, and salt to taste. Remove from the heat and set aside.
To Build the Canelones
Preheat the oven to 300º, and set one oven rack near the top for broiling. Boil water in a large stockpot and add salt and olive oil. When it comes to a boil, drop the canelone sheets into the water, and stir gently. Cook until al dente, and then drain and run them under cold water to stop them from cooking.
Set up your workspace – a clean work surface, your bowl of filling and a spoon, your cooked canelone sheets, and a 9x13" baking dish. Add about a quarter inch of bechamel to cover the entire the bottom of the baking dish. Take each canelone sheet and spoon in filling (or if you have one, use pastry bag with a wide tip – you'll save quite a bit of time) about a third of the way in. Roll up the sheet and add it to the baking dish – making sure to nestle them all together in the baking dish in the same direction. Repeat this until you've used up all of the sheets and all the filling – you may have to adjust how much filling you're using in each one. Top the filled sheets with the rest of the Bechamel sauce – you shouldn't see much of the Canelones themselves, just the edges peeking out from under the Bechamel. Add the small cubes of butter on top of the Bechamel, then cover it with the shredded Manchego. Bake the Canelones for 15-20 minutes, until the filling is warm and the Bechamel is bubbling, then set your oven to broil and add the tray back in on the top rack. Let it broil for 1-2 minutes, keeping a close eye on it so that the cheese is golden brown but make careful that it doesn't burn. Remove from the oven and if you have black truffle, shave a few slices over the top of the Canelones – nothing is more luxurious than warm Canelones with fresh Spanish black truffle. Serve hot, remembering the direction you laid the Canelones so you don't break them when putting them on plates.
Note 1: If you have a meat grinder or Robot Coupe, you can get a better texture for the filling by following an alternate method: Cut the leftover meat in larger pieces and cook it as instructed above. After the everything has cooked down, add the liver whole and then pass the whole mixture through your meat grinder or blend it in a Robot Coupe. Adjust for salt and add a little Bechamel as needed, but overall this will have a smoother, creamier texture.
Note 2: A little extra liver takes this dish across the finish line – at Mercado Little Spain, we use foie gras but any duck or chicken liver would be a great addition. If you have some liver from whatever your Christmas meat is, add it into the filling as instructed; otherwise buy a little extra when you're picking up your ingredients.