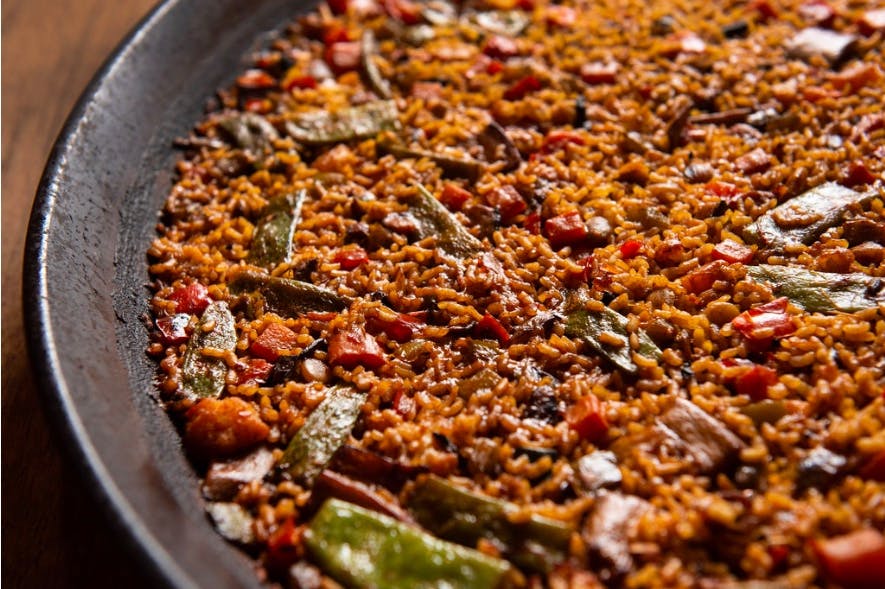 Vegetable Arroz
Share Article:
Recipe
Vegetable Arroz
Paella's vegetable-friendly cousin
Arroz con Verduras
This is technically an arroz, not a true paella, since it doesn't have the traditional ingredients of a Paella Valenciana. Read more about the name here, and some more background about the ingredients and equipment for paellas and other arroces here. The vegetables in this arroz are just recommendations – you can swap them out for anything you love; just plan to adjust the cooking time.
Paella pans are available on our online shop, as well as many of the pantry staples necessary for the dish.
Serves 4-6
INGREDIENTS
¼ cup Spanish extra virgin olive oil (like Arbequina)
2 yellow squash, cut in ½" cubes
1 medium eggplant, cut in ½" cubes
1 cauliflower, broken into florets
¼ pound wild mushrooms, roughly chopped
2 cloves garlic, minced
2 tomatoes, diced
¼ cup Sofrito
1 cup dry white wine
Pinch of saffron, crushed (available here)
3 cups vegetable broth, like Aneto
1 cup Spanish bomba or calasparra rice (available here)
¼ cup fresh or frozen green peas
Sea salt, to taste
Allioli, for serving
DIRECTIONS
In a 13-inch paella pan, heat the extra virgin olive oil over medium-high heat. Add the squash to the pan and brown it on all sides. Add the squash and cauliflower and cook for another 2-3 minutes, then add the mushrooms and garlic and cook for another 2-3 minutes. Stir in the diced tomatoes and the sofrito and cook for a minute, then add the white wine and reduce everything by half.
Add the crushed saffron to the pan and then the broth. Increase the heat to high and bring to a boil, then let it boil for 2-3 minutes. Add the rice and peas and stir until everything is combined, then add salt to taste. Check the box or bag the rice came in – you'll want to cook the rice as long as is recommended (timing can vary by rice type – always keep the bag!) You want the rice to be slightly al dente, with a nice firm center. Set a timer, and then don't stir as the rice is cooking. When you have 2 minutes left, increase the heat to high to get the crunchy soccarat at the bottom of the pan. When the rice is done, remove the pan from the heat and let it sit for 5 minutes before serving.
Serve with allioli and share the soccarat with everyone – no matter how much you want to save it exclusively for the chef (yourself).