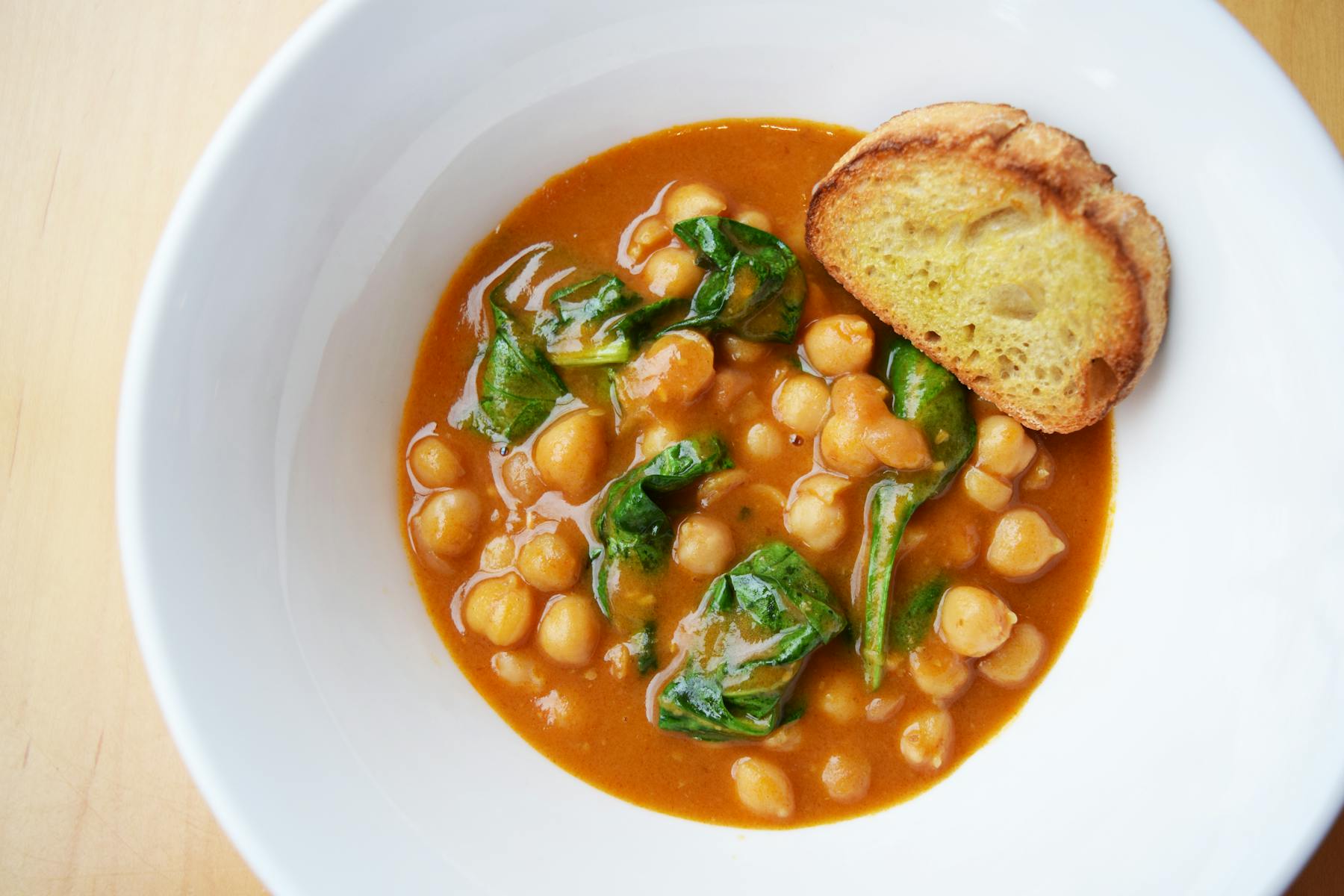 Tichi's Garbanzo Stew
Share Article:
Recipe
Tichi's Garbanzo Stew
This simple, hearty chickpea stew is an Andrés family favorite
This dish is simple and deeply satisfying, a Spanish bar classic. If you don't have spinach, substitute another leafy green – kale or chard would work just fine. Canned chickpeas work well if you don't have time to soak dried ones ... just reduce the cooking time.
Makes 4 servings
9 ounces dried garbanzos, or two cans of chickpeas
Pinch bicarbonate of soda
6 garlic cloves, peeled and whole
1/4 cup Spanish extra-virgin olive oil (like Merula)
2 ounces white sliced bread, with the crusts removed
2 tablespoons pimentón (like La Dalia)
1 pinch Spanish saffron (like Princesa de Minaya)
2 tablespoons Spanish sherry vinegar (like José Andrés Reserva)
1/2 pound spinach, washed and cleaned
1 teaspoon ground cumin
Salt and white pepper to taste
Directions
The day before you cook, soak the chickpeas in cold water with a pinch of bicarbonate of soda. The next day, drain and rinse the chickpeas.
In a big saucepan, combine the chickpeas with 2 1/2 quarts of water. Bring to a boil, reduce the heat to low and simmer for two hours, until the chickpeas are tender. Every 10 minutes or so, add 1/2 cup of cold water to slow down the simmering. By the end, the water should have reduced so it is barely covering the chickpeas. Turn off the heat and let sit.
In a small saute pan over medium to low heat, brown the garlic in 1/4 cup of the olive oil. When the garlic is browned, after about 3 minutes, remove from the pan and set aside. Add the bread and brown on both sides, about one minute each side. Remove the bread and set aside.
Remove the pan from the heat and allow to cool for a few minutes. Add the pimenton and saffron to the saute pan, and the sherry vinegar immediately afterward to prevent the pimenton from burning.
In a mortar, smash the reserved garlic and the browned bread to make a very thick paste.
Bring the chickpeas back to a low boil and add the spinach. Simmer for 5 minutes. Add the pimentón mixture along with the garlic and bread paste, to create a thick, stewy sauce. Simmer for another 5 minutes. Season with salt and pepper to taste, and serve immediately.