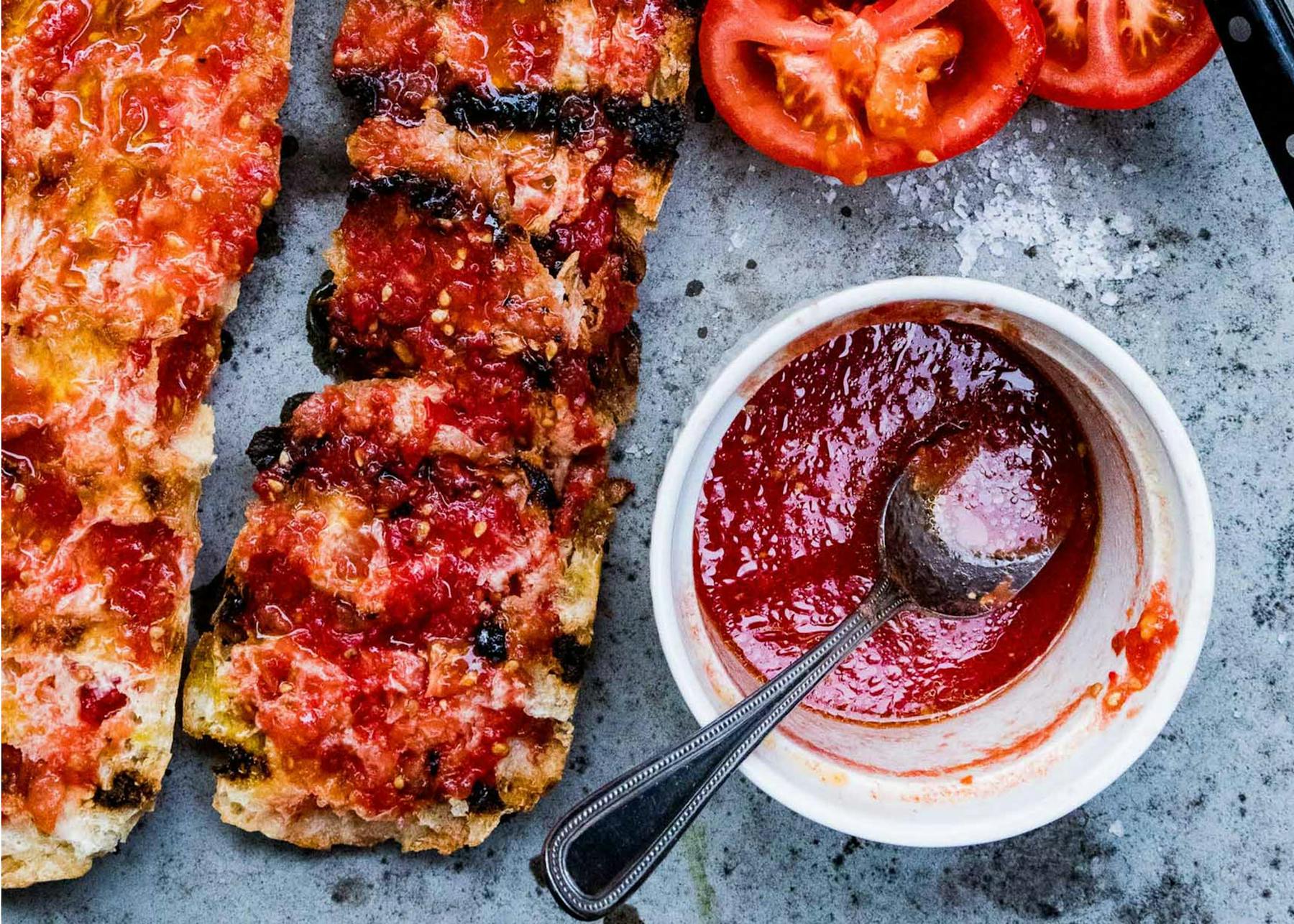 Pan con Tomate
Share Article:
Recipe
Pan con Tomate
A simple, delicious accompaniment to cheese, jamón, y más
Pan con Tomate, aka Pa amb tomàquet
This Catalan classic is a perfect use of two ingredients past their prime: old bread and overripe tomatoes. There are a few ways to prepare it: grill the bread or toast it; rub the tomatoes directly on the bread or grate their flesh beforehand; use some garlic or not – but it's a brilliant combination no matter how you do it. Pan con tomate is a great snack on its own, but even better when topped with some salty Manchego, nutty jamón, or briny anchovies.
Serves 4
Ingredients:
2 big ripe tomatoes
4 slices rustic sourdough bread (baguette or ciabatta also work here)
Spanish extra-virgin olive oil, to taste (we recommend Arbequina)
1/2 garlic clove (optional)
Kosher salt
Directions:
Cut the tomatoes in half. Place a grater over a large mixing bowl, and rub the open face of each tomato through the grater until the flesh is gone. Discard the skin. Whisk the olive oil into the tomato flesh and season to taste with salt. Grill or toast the bread – the taste of a little char from the grill makes this dish even better, but it's still great with bread straight out of the toaster. If you're using the garlic, rub it over the surface of the bread, then spoon the tomato-olive oil mixture over. Finish with a little more oil and salt and serve on its own or alongside cheese, cured meats, or tinned fish.