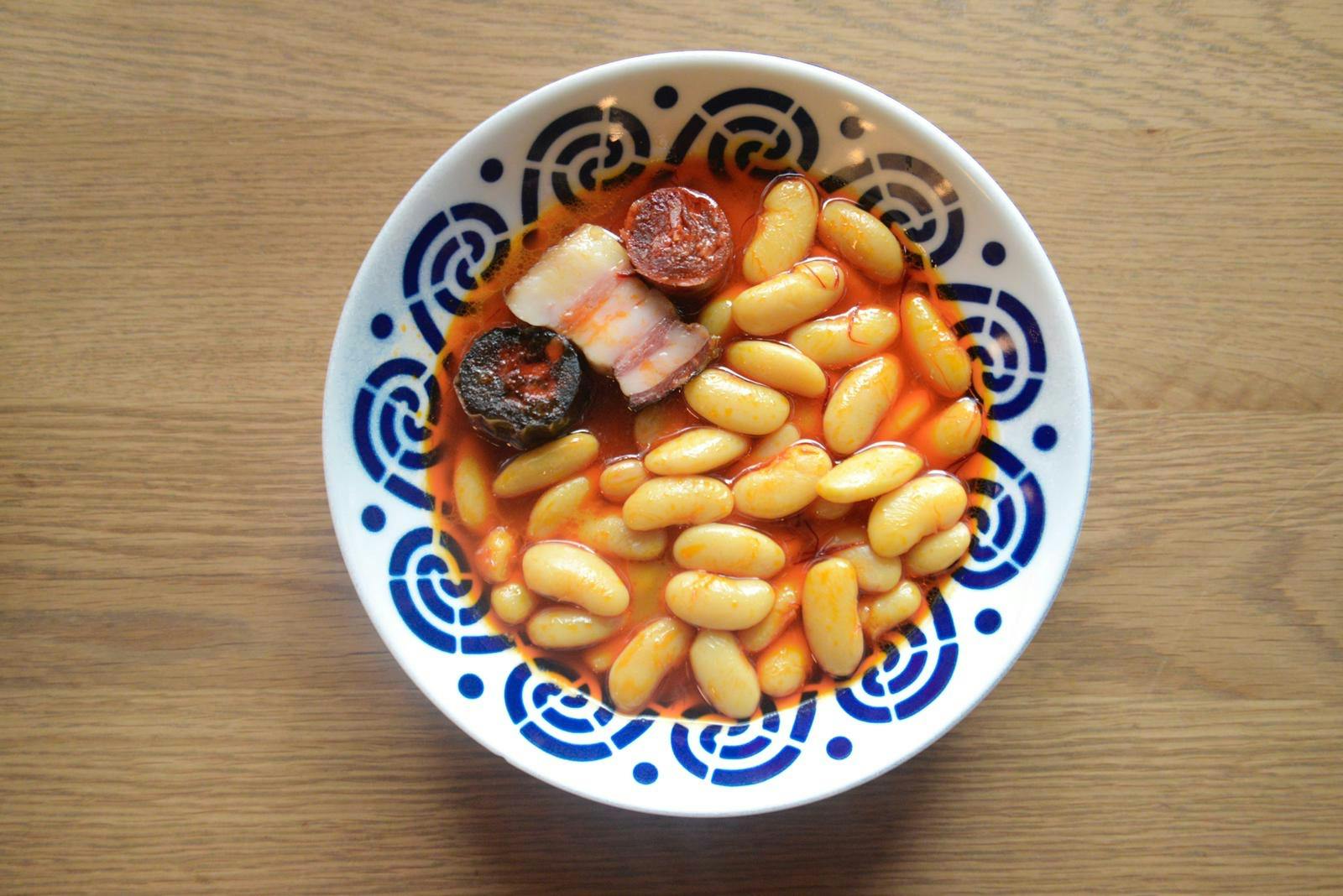 Fabada Asturiana
Share Article:
Recipe
Fabada Asturiana
The national dish of Asturias is perfect for a cold winter evening
José was born in a quiet corner of Spain, the northern region of Asturias. Mountainous and rugged, Asturias has long held an identity separate from the rest of Spain, having once existed as an independent kingdom during the Middle Ages. This bean stew, which José has called the national dish of Asturias, is simple, rich, and filling – perfect for a cold winter evening, or after a day of hiking in the mountains.
Serves 4
Ingredients
½ pound fabes, or other large white beans
1 quart chicken stock, homemade or store-bought
2 chorizo sausages (like Chorizo Ibérico by Fermin)
2 blood sausages (like Fermín's Morcilla Ibérica by Fermín*)
¼ pound smoked slab bacon
1 head garlic, whole, with the outer layers of papery skin removed
1 onion, peeled
1 teaspoon pimentón (like La Dalia)
1 pinch saffron threads, crushed (like Princesa de Minaya)
½ cup Spanish extra virgin olive oil (we like Merula for cooking)
Directions
The night before you made the stew, place the beans in a large pot and cover with cold water to soak overnight. The next day, drain and rinse the beans, then return them to the pot and add the chicken stock, chorizo, blood sausage, bacon, garlic, and onion. Bring it all to a slow boil, skimming any foam that comes to the surface. When the pot comes to a boil, reduce the heat to a low simmer, and add the pimentón, saffron, and olive oil. Let the beans cook for 2 to 2½ hours, adding a little cold water every 10-15 minutes to slow down the cooking and make sure the beans stay covered in liquid. When the beans are tender, remove the pot from the heat and let it rest for about an hour. Remove and discard the onion and garlic. Slice the chorizo, blood sausages, and bacon into slices, and set them aside. The beans should be thick and creamy; if they're watery, take out ½ cup or so from the pot and crush them into a paste, which you can then stir back into the rest of the beans to thicken them. When you're ready to serve, spoon the beans into four bowls, then top each one with slices of meat. Serve hot.
*Fermín's morcilla is a bit softer in texture than morcilla you might find in Asturias, which is cold smoked and slightly fermented. If you are using a softer unsmoked morcilla like Fermín's, you can cook it separately and then add it at the end of the cooking process so that it does not fall apart.