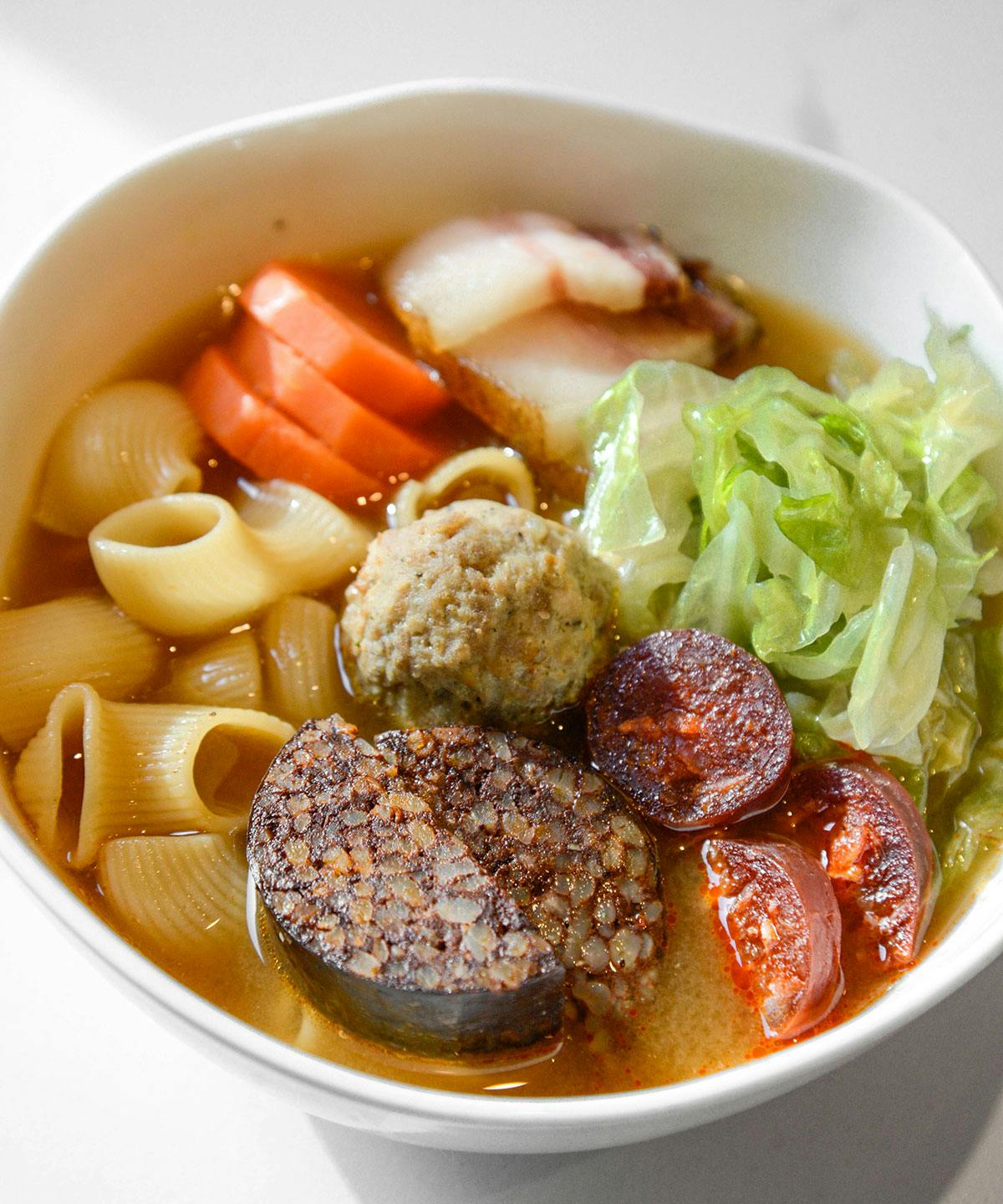 Cocido, Spain's Answer to Ramen
Share Article:
Culture
Cocido, Spain's Answer to Ramen
The famous stew that moves José
Cocido, Spain's Answer to Ramen
"There are few dishes that move me quite like cocido." - Chef José Andrés
Cocido, a traditional stew with its origins in the Iberian Peninsula, is a favorite wintertime dish for many Spaniards. It gets its name from the word "cocer," which means "to cook," which makes the translated name of the dish simply "cooked." It's a much more complex and rich stew than the name would imply, involving a parade of meats, vegetables, and starches meant to provide a full meal from a single pot. Cocido was traditionally made in the winter by workers who needed a significant meal to sustain themselves, and has become a classic seasonal dish. The most famous version comes from the city of Madrid: the Cocido Madrileño, which includes plenty of chickpeas, noodles, cabbage, carrots, chorizo, morcilla, jamón, and chicken. Other versions, such as Cantabria's Cocido Lebaniego and southern Spain's Cocido Andaluz, can feature other ingredients like eggs, squash, white beans, turnips, and more.
Cocido, no matter where it is made, is usually served in a unique style: los tres vuelcos, or the three turns. It's coursed out for service, starting with a soup made from the rich, concentrated broth dotted with pasta; followed by a big bowl of soft vegetables and savory chickpeas; and finally the meat – chicken, meatballs, morcilla, chorizo, jamón, marrow bones, mutton, and bacon are all common additions to Cocido. It's a one-pot three-course meal, so it's easy to understand why Cocido is the perfect wintertime dinner for hard-working laborers, and why it's such an important dish for José. He's called it Spain's answer to Ramen, and has predicted that someday, Cocido will be even more popular around the world than Ramen. He even created a Japanese-accented vegetarian version for his cookbook Vegetables Unleashed.
Since cocido is such a warming, hearty meal, it's perfect for New York City's cold winter months. Our version of Cocido – being served this winter at the Frutas y Verduras kiosk – is inspired by our favorite regional versions, rich with chickpeas, cabbage, chorizo, smoked pork belly, carrots, and morcilla. And because we're in New York, where everyone is always in a hurry, we're speeding things up and serving it all in a single bowl, a Cocido for the city that never sleeps.