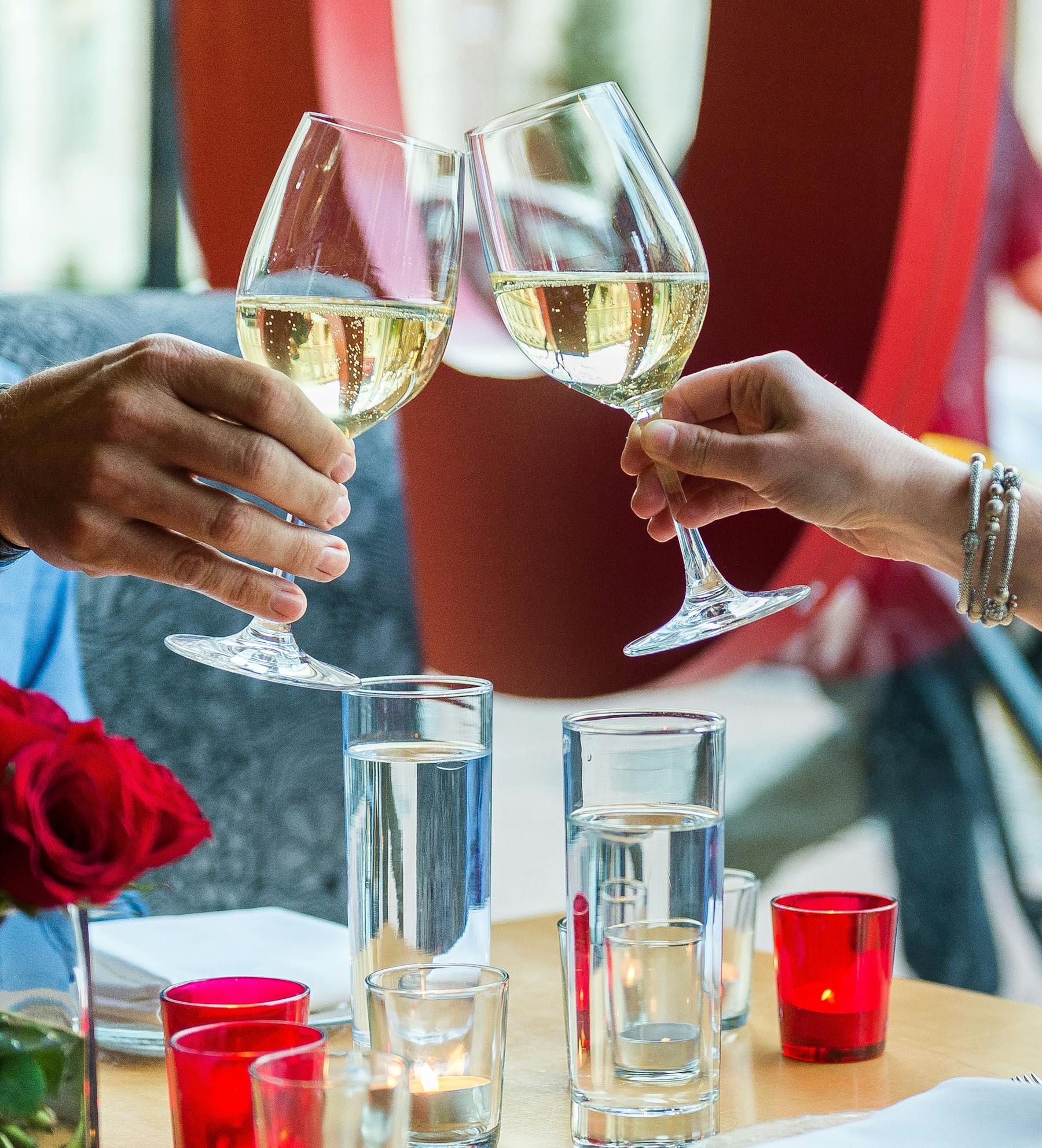 On Spain's Sparkling Wines
Share Article:
Culture
On Spain's Sparkling Wines
The origins of Spanish sparklers – and some perfect pairings
On Spain's Sparkling Wines
Spain has a long history of making sparkling wine, ever since the mid-18th century, when Spanish winemaker Josep Raventós traveled to the Champagne region of France. Raventós's family had been making still wines since the 15th century in the Penedès region of Catalonia, just outside of Barcelona. In the 1860s, he traveled to Champagne to sell his still wines, and learned about the winemaking techniques of the area. When he returned home, he started his own experimentations, and by 1872, made the first sparkling wine using local grapes and the traditional champenoise method, which adopted the name champán (or in Catalan, xampany).
The traditional method of making sparkling wine is as follows: winemakers pick ripe grapes and crush them to produce juice, which is then fermented in wood or steel. This first fermentation produces still wines, which are then blended together and bottled with yeast and a small dose of sugar or fresh, sweet grape juice. In the bottle, the yeast consumes the extra sugar to produce fizz. In order to clarify the now-sparkling wines and stop the fermentation process, the bottles must be "riddled" – that is, gently turned over the course of months to gather the yeast to the top of the bottle, where it will be removed through disgorgement, leaving a sparkling, clear wine that is then corked and caged.
Soon after Raventós imported this technique, more Catalan winemakers in and around the Penedès region started making sparkling wine with three local grape varieties – parellada, xarel-lo, and macabeo (four others are allowed, but these are the three main grapes). In order to differentiate their product from their French neighbors, they decided to give their sparkling wine a new name: Cava, which is Catalan for "cave" or "cellar." Spanish producers also invented a new piece of mechanical equipment to help along the riddling process, called the 'giropalette,' which speeds up what was once done entirely by hand, allowing sparkling wine to be made in a much large volume than before.
Interestingly, the "designated origin" (DO) of Cava is different than any other in Spain in that it's not regionally-based – Cava can be made anywhere in Spain, as long as it follows all of the rules for production. As a result, there have been a few movements away from the DO Cava by sparkling winemakers in the historically important region of Penedès. In 2012, Raventós i Blanc (the family of winemakers continuing in Josep Raventós's tradition) – one of the wineries responsible for setting up the Cava DO in the first place – decided to leave and establish a new geographically-bound DO: Conca del Riu Anoia, centered on the River Anoia Valley. In 2019, this past February, nine more producers left the Cava DO to start Corpinnat, derived from Corazón del Penedès, or the heart of the Penedès region.
But naming and regional intricacies aside, it's easy to find and appreciate Spanish sparklers – both white (blanco) and rosé (rosado) – from many different high-quality producers. José Andrés partnered with Raventós i Blanc to produce a vintage sparkling white wine, called Cuvée José, which is available at any of the bars and restaurants of Mercado Little Spain. Other sparkling winemakers to look for include Mestres, Castellroig, Josep Foraster, and Ilopart, all available throughout the Mercado and restaurants. Most Spanish sparkling wines, unlike those from Champagne, are made to be affordable and approachable, a family- and party-friendly wine that marries perfectly with a wide variety of Spanish dishes.
As with most sparkling wines, there's almost no bad pairing with Cava, Corpinnat, and other Spanish sparklers ... but there are a few exceptional ones that we love. Seafood and sparkling are a match made in heaven – especially briny raw oysters, savory pulpo a la gallega, and garlicky gambas al ajillo. Jamón and Cava is another Spanish classic – the complex, nutty richness of jamón Ibérico is an incredible counterpoint to the yeasty minerality of a vintage sparkling wine. Sparkling wine is a natural match with traditional Valencian paella, as well as traditional stews like callos a la madrileña, pollo catalana, and fricando de ternera – all available at Spanish Diner.
Or if you want to keep it easy, open a bottle of bubbles and make some of the famous Catalan pan con tomate – sometimes the simplest pairings are the best.