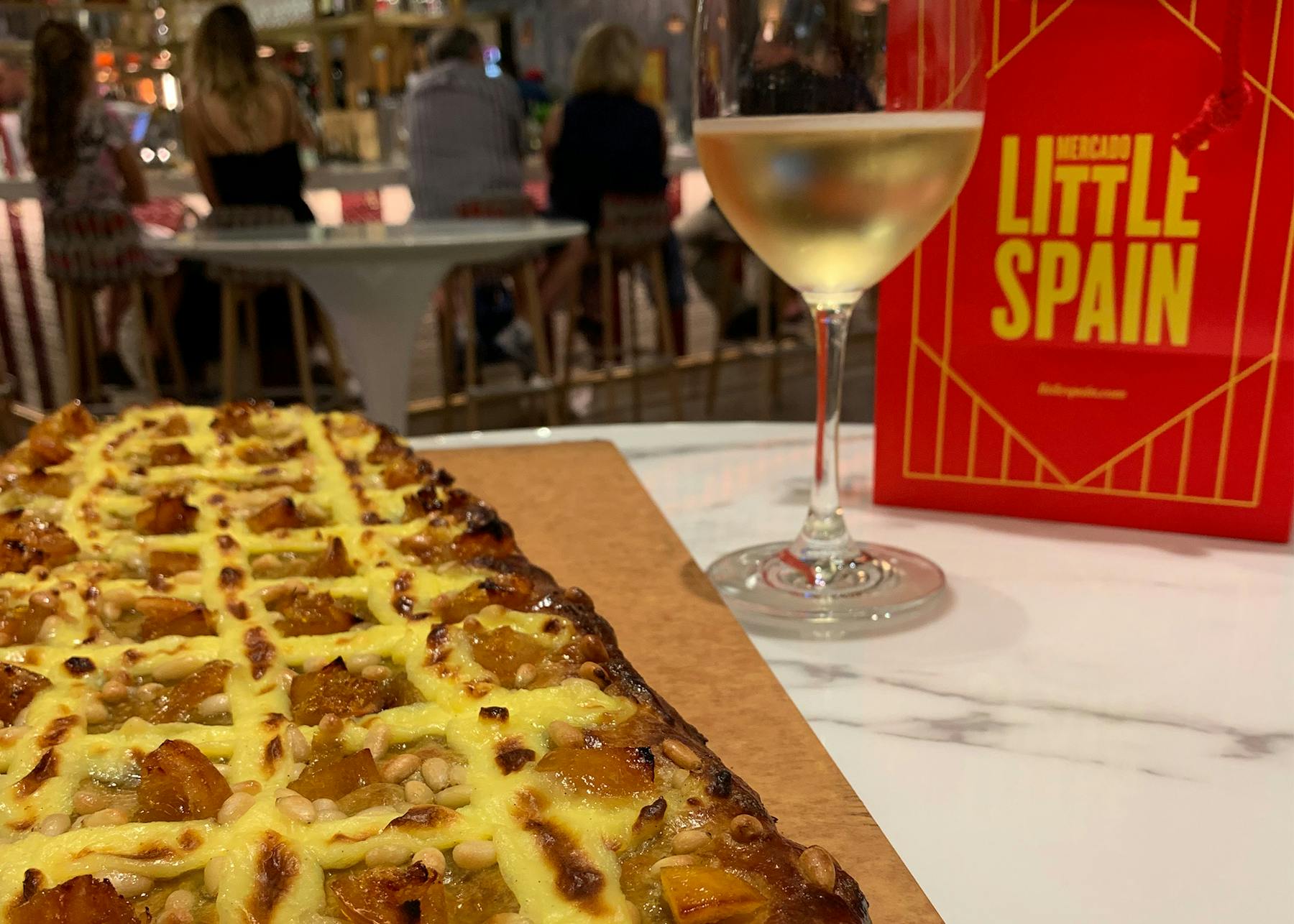 Cocas de San Juan
Share Article:
Culture
Cocas de San Juan
Catalans celebrate Solstice with this sweet treat
Every year, on the longest day of the year, Catalans celebrate the Fiesta de San Juan (in Catalan, Revetlla de San Joan) with a special pastry, the Coca de San Juan. June 24 marks the feast day for Saint John the Baptist, which nearly coincides with the Summer Solstice. The two celebrations – Catholic and pagan – have combined into one festival marking the longest day and shortest night of the year. Traditionally, Spaniards light bonfires in order to "dar más fuerza al sol" – that is, to give more strength to the sun as the days start to shorten again.
Catalonia, in Spain's northeast, celebrates Fiesta de San Juan with a special coca. The traditional Catalan coca, whose name comes from the same root as the English word "cake," is a baked flatbread with a variety of toppings, either savory or sweet (the cocas at Mercado Little Spain's Cocas Kiosk feature savory combinations like jamón with cheese and escalivada – Catalan roasted vegetables – with anchovy). At dusk on June 24, though, families enjoy the Coca de San Juan, a sweet version that often features lemon zest, pastry cream, and pine nuts. And a drink, of course: the most traditional toast alongside the Coca de San Juan is a glass of Cava, the sparkling wine made in the Catalan region of Penedès.
We're featuring two different cocas to celebrate Fiesta de San Juan this year. The first, Coca de Llardons, is a unique sweet-savory combination of chicharrones – pork cracklings – and pine nuts, baked on puff pastry. The second, a Coca de Crema, is a brioche dough flavored with coriander and anise, topped with vanilla pastry cream, candied oranges and pine nuts, and then baked in the oven and finished with an anise simple syrup. It's rich, sweet, and nutty, and a perfect way to celebrate the longest day of the year. And don't forget the Cava – a glass of 2015 Cuvée José from Raventós i Blanc will do just fine. As the Catalans say, Bon profit.